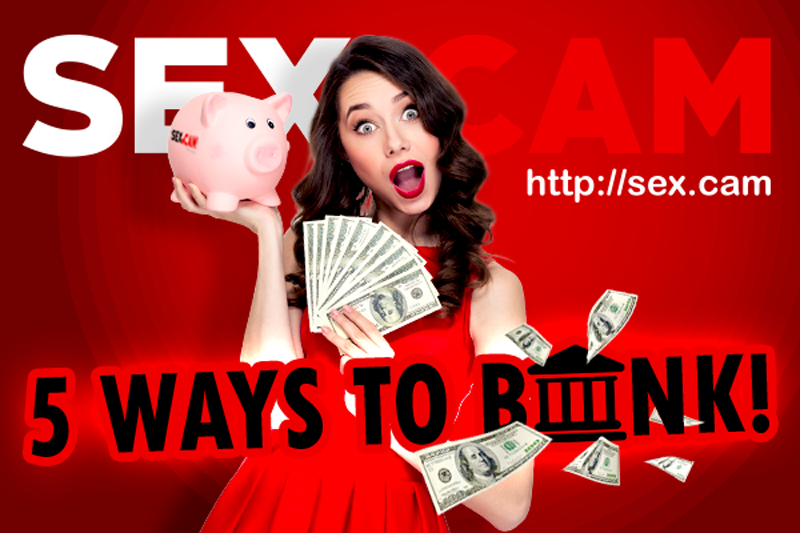 Models often expect to make money within minutes of broadcasting on a platform, however how well do you know your platform of choice: Freemium, Premium or Hybrid?

Here are 5 ways to make bank with Sex.Cam

1. Promote your stream on social platforms such as Twitter using your model referral link.
Sex.Cam pays models an additional 20% in rev-share for any sales generated from your referral link even if the user spends with another model.v Use your model referral link to maximize your broadcast sessions so your fans will turn up when you are online

2. Set up your V.I.P video membership.
Users are always looking for additional content and experiences from their favorite cam model. Creating new and enticing content is a sure way to satisfy your fans when u are off-line.

Keep your database consistently updated with new content. This is a sure way to retain and grow your membership database.

3. Ask your audience for tips or a bonus in free chat.
Majority of the users are unaware that they can tip you just for looking ravishing or for something appealing you may have said or done.

This is a great way to monetize your room. Also, create a tip challenge where there is a sweet reward for meeting your target.

4. Add interactive toys to your show.
Models who work with interactive toys typically see a higher payout than models who do not use interactive toys.v Users are always looking for ways to make the social experience as stimulating as possible.

5. Select the gestures that you are comfortable with and the virtual gifts that you would like to receive.
Encourage your fans to reward you for being naughty or nice. The more gestures and gifts that you sell the more dollars you will make.

Sex.Cam is a platform driven by models. These are just a few ways to maximize your earnings within each broadcast session.

Promote your room, remind your fans what you offer and how best to reward you.

For additional tips please reach out to our chat support or send us an email at https://model.xlovecam.com/contact.html.
Likes
abfab
,
alexis1177
,
AnnaCandy84
,
ArikaSilk
,
CplSex
,
DonaDiabla
,
Ericka_Rayne
,
MissFoxxxy
,
mistressmay
,
Paisleyluves
,
Ruanna
,
Rutger
,
TessaLeee
,
tribute1
,
Tristan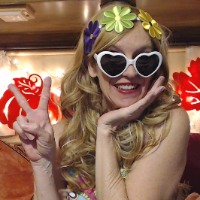 Paisleyluves
King
March 11, 2019 - 2:28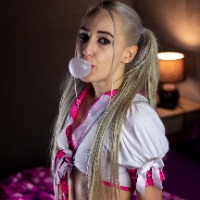 nicehotjob
Expert
March 11, 2019 - 19:44
Sorry but ... "3. Ask your audience for tips or a bonus in free chat." ??? Tips are Tips, not a price of product. If you do good show, members will tip you for that because you are good. Same if you do waitress, if you smile and you do good service ,clients on table will leave you a tip. Asking for tips is degrading thing. Having tipmenu is ok but in this case tipmenu is a pricelist. https://en.wikipedia.org/wiki/Gratuity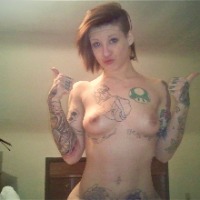 CleveCamGirls
Rookie
April 9, 2019 - 9:13
I found the tips in the article to be very basic and not very good compared to the tips I've learned from experience. If you really want to make BANK, here's what I've found that works: 1) Stop doing solo shows/videos! The minute I started doing guy/girl, girl/girl and guy/girl/girl shows I started making at least 4 times what I was making doing solo shows (even when splitting it with another girl). GUY/GIRL/GIRL videos pay bank if you do it right...camera angles are very important with 3some videos. 2) Pick a guy with a BIG dick who has STAMINA and can keep himself from cumming for at least an hour of fucking/getting his dick sucked. If the guy gets winded after fucking you for 10 minutes, can't stay hard or cums too quick you aren't going to make as much money. I never would've believed this but using a guy with a big dick does result in significantly more money. I think it's because 1) Women also watch and they prefer a nice dick and 2) When the guys watch they are fantasizing that they are the guy and they prefer fantasizing that they have a big dick. 3) Try to develop a theme. For example, when me and my guy were doing cam shows, it would always be me and him and then we'd have a new girl join us for each video. We made it seem like they were my friends wanting to come over and play (which they were in some cases) or, the other girl was someone we met at the bar and brought her home to fuck us. 4) Work with other girls who LOVE getting fucked just as much as they love making money. We all really like the money that comes with putting out good amateur adult videos. But, if you're working with a girl that ONLY does it for the money and doesn't enjoy the sex as much as the money, your viewers will be able to tell and the number of viewers will go down each time you broadcast. 5) Get a good camera (not your cell phone) and have someone do the camera work. It's not hard. All they have to do is follow the action and keep the camera steady. You'll get at least twice the number of viewers/followers when you start using a camera girl/guy as opposed to using a tripod, or even worse, setting the camera on a piece of furniture and pointing it in your general direction. 6) Have fun and be creative! I'M LOOKING FOR ATTRACTIVE, SEXY, OPEN-MINDED, BISEXUAL WOMEN TO WORK WITH ME AND MY MAN, OR JUST ME. PLEASE MESSAGE ME IF YOU'RE INTERESTED. ABSOLUTELY NO MEN PLEASE.