Looking for a webcam job? Sign up as a web cam girl or guy take control of your career. Performing on webcam is exciting!
Payment Methods
• Check (mailed/emailed)
• Bank wire transfer
Payout Percentages
25% to 35%
Payment Minimum
$50
Payment Frequency
Payout every 2 weeks.
Concept
Premium
Geoblocking
Female Models
Male Models
TS Models
Couple Models
Number of Camgirls
Not public
Languages
English
Allowed to work on other sites
Official Reps
VS_Miguel, VSJeff, Marc, VsCarlos
Alexa Ranking
2190
WeCamgirls Members
231
Incorrect or missing information?
Contact Tristan
---
Flirt4free Earnings
Flirt4free has a range of payout percentages since they have models who work direct, models who work with studios etc. To get an impression:
1 - 4000 minutes: you get 25%,
4001 - 10000: 27,5%,
10001 and more: 30%.
---
About Flirt4free
Flirt4Free is an adult entertainment website specializied in video chat by male, female and transgender actors. As part of the Video Secrets network (VS MEDIA), with approximately 300 chat hosts online in various categories. The Flirt4Free focus lies on Premium, so performers can be taken from free chat to private chat. Flirt4Free is an award-winning (137 awards!) live cam site and has been in camming since 1996, which makes it the oldest site out there. The network offers more than 200 million unique visitors to their chat rooms every month. The site is very clear and user-friendly.
---
Flirt4Free Features
Flirt4Free is a Premium camsite with Freemium elements and has several features available for users and models. There is a Free chat that is called Open Room. The Open Room is to get to know the models and customers before you start with a private. Users that have not registered yet will be removed from the Open room after a period of time. However, you can send tips and virtual gifts in the free chat.
The next step after the Open room would be a private show or a Multi user show. In a Private chat the member and model are one-on-one. Customers can use the cam2cam and two-way audio options completely free of charge. The model sets the per minute rate.
You can also use the multi-users show option. This option functions in the same way as Private Chat, except that the rate per minute is usually lower, and other users can join at the same lower rate. When a model offers multi-user shows, the rate will appear in the top right corner of the feed, next to the private shows. Note that only the user who started the Multi-User show can use cam2cam. Any user who joins after the first can look and type, but cannot be seen by the model. Furthermore, users can also spy on current private shows at a very low rate.
As a member of FlirtFree you can also participate in a Party Chat. This one is a tip-based sex chat for multiple users. It is basically a Freemium set up. It costs nothing to enter, but the show ends if users don't tip, so tipping the artist is encouraged and rewarded. Party Chat is indicated by a pink banner above the model's face on the main page.
Since sending tips in the Open Room and in the Party Chat is possible, it is also possible to do Tip Controlled shows. This allows the user to to tip to activate a model's Lovenese or OhMiBod remote-controlled vibrating sex toy. Some private shows go even further. These shows are tagged Interactive, allowing the member to use a Feel Connect app to let the model control your interactive sex toy.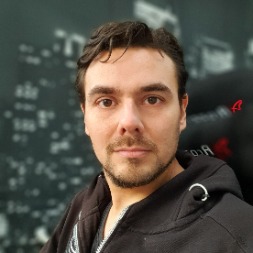 Tristan is a co-founder of this community. Interwebs nerd by day (and by night). Likes to watch sports and has gathered substantial knowledge about the webcam world, by visiting conferences and talking to (and drinking with) people from the industry.
Flirt4free Reviews (by members):
Flirt4free Reviews by customers
Flirt4free Reviews (by non-members): Zane
wrote a review about
Flirt4free
November 25, 2021 - 17:38
Average
As a Independent Model I would not recommend working with this Company. The only Models that truly matter are the ones from South-America that work with Studios (and of course the few from Eastern-Europe that is also related to Studios), it will non-the-less be expected that VS Broadcasting will discredit these statements, however, go onto their websites and see who are the Models that win all of their advertised contests, see where they come from (to concluded, adding 1+1 gives you 2). If you think you will generate a good income for yourself, think again. Rather look for an alternative (sadly there is not many for an Independent Model). VS Broadcasting (Flirt4Free) prides themselves as the "Leader" in this specific industry. That statement is dependent in the context in which you view it. I would however would not recommend working for this Company nor will I encourage People to sign-up on this platform or any of VS Broadcasting's other platforms. The choice is yours. CharlotteDiamonds
wrote a review about
Flirt4free
November 2, 2021 - 2:53
Average
I used to work on F4F but they close my account giving me the reason I'm not what they are looking for. I think you should let everyone work and let users decide. It is extremly stressful working on F4F because they are very strict and send room warnings for every small mistakes you do and for some reason I don't miss it.
Write a review about Flirt4free