Doing too many camshows can be bad for your body if you are not careful. You can end up feeling sore and tired, and its nice to have something to back up on when period week starts. There are tons of guys with used panty fetishes, so why not take advantage of the hours you aren't really working? All you have to do is do your normal activities in your panties and sell them to willing fetishists online.
1. Who can sell used panties?
Anyone can sell used panties! It doesn't matter how old or young you are, and there are also guys who are interested in buying male panties.
2. What attracts guys to worn panties?
There are many guys who just want to breathe in the essence of a beautiful girl. Others want to use a soft material to jerk off into. It really depends on the guy, but they can't help what they like!
3. Where can they be shipped to?
I'm not sure about other countries, but it really risky to ship to other countries if you are in the United States. If you decide to ship across the globe be sure to keep the original packaging to send the panties off to. While no one truly checks when you are shipping items via regular mail, customs will check if you are sending out of the country. You'll also have to fill out paperwork. Just make sure you don't mention they are used.
4. How do I get started?
a. Have some panties available. Name brand panties like Victoria's Secret have a better re-sale value. If possible, always have designer panties available.
b. Take pictures! Are the bare minimum you need to take pictures from the front and back. You also need to have a picture of your face so guys can feel a closer to connection to you instead of feeling like a creep.
c. List them online! There are several places you can list.
Extralunchmoney
You can read more details about selling used panties at:

Author
Comments

StacySadist
Mistress
February 6, 2014 - 11:57
Great article, girl. Thanks for the links. Don't forget the Ziplock bag right? They want to get them as fresh as possible, so make sure you don't procrastinate on mailing them. It does cost a lil bit more, but I like getting a tracking number. If there is a beef, it will be with the USPS/FedEx and not me.
Thanks for this article! The links are great

Stacy, I've heard mixed reviews about actually putting them in ziploc bags, If you put something wet into a ziploc bag it could mold and be pretty rank by the time it gets to the customer from what I've heard, but then i've also heard others say they are perfectly fine. I guess it depends on what your customer requests maybe? I'd like to hear some other opinions on this as well!
Always let your panties dry completely prior to sealing them up, I know this might seem counter intuitive but guys know they can 'steam' them and bring them back to their damp/fresh state but you cant save a moldy pair of panties that have been put into a bag wet (think moldy towels or bathing suite at best) Also you dont need to show your face at all. Guys do want a connection but most understand that not all ladies want it to be public knowledge that they are selling their panties. Not saying showing your face wont help sales, just that it isn't the end of the world if you dont want to show it. As for panties, Every guy likes something different come love VS some could give a shit less. Some love lace, some hate it. Some love thongs, some love granny panties. When I first started panty selling I though guys all wanted 'sexy panties' now I realize that all those worn out, stretched out, lightly stained, ready for the trash panties also sell really well. Not talking for all of them, but when guys are asking for worn panties, they want panties that have been worn (not just for 24-36hrs) but panties that have been in your collection for 3-6-12months ect.

MichelleDeTX
Hero
February 6, 2014 - 17:45
I have been selling my panties for about 6 months now. Mostly through customer contacts that I made while camming, but also from ExtraLunchMoney and also Twitter. I really like the idea of being an indy used panty girl because I don't like to share my money with a big box site. Selling panties is a good extra income stream, but to build a good reputation and command good pricing, one needs to be aware of different preferences and also that this is a personal connection that your panty buyer is wanting to make with you. They want to know you on another level. Seeing a picture is often not enough to make a decision about whether they want them or not. It's like borrowing your boyfriend's sweater- it smells like him, and that triggers all kinds of pleasurable feelings, only enhanced by your personal connection to him. So I try, really hard, to give my buyer a sense of who I am, my personality, to go along with the sale. Offering a short video of you wearing the panties or possibly playing in them offers added value, and another dimension for your buyer too. As far as packaging goes- I don't like to ziploc the panties unless specifically requested due to the fact that no moisture can escape. I prefer to first wrap them in tissue paper (like you would receive a new pair of panties from a retail store) and then secure them in a cello wrap bag. I tie the opening loosely with a ribbon. This helps to seal them somewhat but not so much that there will be issues with any moisture forming in the bag. It's the same thing as how you store veggies in my mind. Protected, but not completely sealed. I personally do not put a tracking number or any identifiable information on my package. I put stamps, mailed anonymously. Have never had any issues but in the event that there was an issue, I would probably just offer to resend a pair or possibly a refund. Most panty guys are very polite and respectful and more than willing to work with your guidelines. If anything, they have been screwed over many times and had a lot of bad experiences. Think about how much faith they put into people they don't know on the internet to give them what they have already paid for. Part of what makes this process rewarding for me is coming through for them and exceeding their expectations. The money is great, but so is the feeling that I get when they tell me their package arrived and how happy they are. I learned a lot from this site that an indy panty seller created.

anoncamgirl
Experienced
February 6, 2014 - 17:46
Well you could do a ziploc bag, but I've found it really depends on the person. A lot of guys would prefer it wrapped in tissue paper. Additionally, this is a very basic guide meant for beginners.
I just want to warn everyone, there is an old super lame law called the Comstock law. The jist is the law "made it illegal to send any 'obscene' materials through the mail."

MadameMona
Skilled
February 8, 2014 - 15:41
Although I live in Europe now, I'm a US expat and I don't see why it is risky to ship panties overseas. When I sell panties, I just put them in an envelope with an international stamp and no return address. Maybe if you're shipping them in a box it's risky for customs, but it's much more profitable to use an envelope. Sometimes I get the envelope weighed at the post office to make sure it's not too heavy to be delivered (if the customer specifically requested a ziplock bag). I don't include a picture, but most of my customers are from MFC and SM. I always include a little love note signed with a lipstick kiss, it drives guys wild and they usually come back for a second pair. I used to sell designer panties, but honestly, guys do not seem to care one bit. Maybe in the US dudes are familiar with Victoria's Secret, but nobody knows of them here, and even my American customers don't care. I buy panties from Primark when they are on sale, usually 0.50 to 1 euro a pair. Primark panties look as cute as expensive brands, and I just cut the tag off so it's not obvious where I bought them. I sell my panties for 500 tokens on MFC (about $23 proft after postage cost of panties) or 750 if they want a video/quick Skype of me stuffing them. I've had guys pay extra for me to shoot a video and take hi-res pix of me stuffing them as well). On Amazon/Other payment sites I charge around $30 a pair. I have a prize wheel I use on MFC, and I charge 99 tokens for a spin. Stuffed panties are the grand prize (everything else is stuff I charge 60-100 tokens for), and I still make a few bucks profit plus it's a great incentive for guys to spin the wheel multiple times. LoonaVision
King
February 15, 2014 - 17:55
Didn't know girls are allowed to sell panties on streamate?? How much do you sell your panties for? That I was thinking... First, it's a price of panties Second, price of shipping Third, it's time you spent wearing panties, packing them and going to post to ship them And , fourth, it's the percent that website where you are selling them takes.

ShanaStorm
Jedi
February 16, 2014 - 16:39
Luv ur article! I have always sold panties......most guys that I have worked with, want them worn for at least a day. I will sell a pair that I use in a show w a promise to wear them for the next 24hrs. Some of the guys like to come back when they receive them and want me to watch them wacking off into them! Humorous side note on this......have to avoid getting ur guys cum on these panties if u have sex with ur partner....don't think guys want to have other dudes cum on "their" girls panties!

I want to sell my panties for 50 bucks. Who wants to buy it?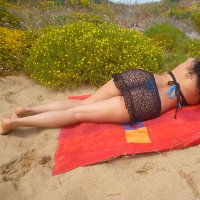 PrettySuzFun
Jedi
February 25, 2016 - 11:41
Your article is great, I sold many panties before, in my regular shows, I did not know the links, they are usefull, thank you
Sign up to leave a comment!
Want to write an article or get interviewed?