In the Spotlight will be a new returning topic on WeCamgirls. Today's guest is ravenskyexxx. Thank you for your time and enjoy the read!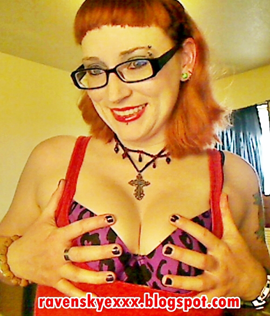 How old are you and where are you from?

I am 28 (just turned 28 on October 2) and I am from the west coast. I am intentionally vague about where I'm from/where I live because I am unreasonably paranoid about stalkers/guys finding where I live. Sorry.

Is webcam modelling your day job?

Yes it is my main job. I have been working in the adult industry doing camming, pso work, selling adult content, and doing marketing for adult websites for over 4 years. It is all I do and I freaking love it. Actually, I also do pro tarot card reading and write freelance articles very part time. I love every aspect of this industry and I hope to be working in it until I'm 60. Haha. I did just try out retail a few months ago but only lasted about a month. I just need to work from home and be my own boss. I hated being on my feet for 9 hours straight and being told what to do for minimum wage. Not my thing. I am happy working at home doing my own thing.

How did you come in contact with the cam business?

Let's see...I think I was working a horribly boring office job and my husband was making nothing at his job and I think I read about camming or stumbled upon a cam site somehow. I honestly don't really remember. It was 2009. I just remember wanting to try non-nude camming first but it was very hard to find a site that allowed me that freedom so I gave in and started first at a European site called xmodels. You would think I would be nervous to start but as soon as I turned on my cam it felt so natural; like I had been doing it for years. I had so much fun instantly.

How would you describe yourself as a camgirl?

What do you mean? Like would I describe myself as a great cam girl or a poor one? lol. I just normally say I'm a redheaded tattooed pierced cam whore with a huge ass that I love to spank and I adore fetishes. I have a very open mind, I'm kind and caring and love to listen and help people. I also am intelligent and quirky. I'm a big silly weirdo who loves showing off her ass and tits.

Where can we see you and how long have you been working there?

Oh god. First of all, I have probably been signed up on 80% of the cam sites out there currently and those that existed but shut down. So, I probably have a profile on a bunch of sites that I don't even remember. lol. But, right now, I am working mainly on ExtraLunchMoney selling my content (http://extralunchmoney.com/user/ravenskyexxx), Kinklive.com), (As RavenSkyeXXX), Fetchgirl.com, (http://cams.fetchgirl.com/cgi-bin/performer/vibe_perdes.cgi/ravenskyexxx), streamate), (ravenskye.cammodels.com), I have a Naked.com, profile, seeme.com (http://www.lovetrap.com/ravenskyexxx/profile), camcontacts, and indy sites like girlsprivatecam.com and http://www.independentlivecamgirls.com. I LOVE the indy sites and always have. I hate sitting in free chat. Hate it with a fiery passion. :p I also have a MFC profile (http://profiles.myfreecams.com/Ravenskyexx) but I will rarely be on there. I'm just not fun or energetic enough to work that site.

Have you also been working on different sites?

As stated above, many many sites. lol.

Do you also have a personal website?

Yes I have http://freakmommas.com/ravenskye. And you can also keep up with me, see my free pictures, my blog posts and updates, and enter your email to get my new blog posts right to your email inbox at http://ravenskyexxx.blogspot.com I also have a lot of info and reblog lots of hot pics on my tumblr http://ravenskyexxx.tumblr.com.

Do you have a special room prepared in your house for your shows?

Not really. I wish I had my own office space. I just cam in my bedroom from my work desk. Sometimes I might cam in bed. I have a locked door for privacy.

How was your first modelling experience?

I talked about that in the other question. My first camming experience was awesome. I wasn't nervous at all, I had lots of fun and was smiling and met cool guys. It was also a huge confidence boost being called pretty and having strange guys want to see me naked.

What's the most appealing thing about your job?

Most definitely getting to work from home. I suffer from mental illness, anxiety, depression, and severe chronic back pain. Therefore, I cannot work a "regular" job outside of the house because standing for more than a few minutes makes my feet and my back hurt intensely. I also have many many days where I'm too tired to keep my eyes open or I have so much anxiety I can't leave the house. So, camming and selling content and being a pso is the perfect work for me. Even though I can work from home, 70% of the time I'm still in too much pain or having panic attacks so I can't work much. That's why I am always broke and owe a lot of back rent right now :/

What do you like least about your job?

The guys who are broke, who think I just do this for fun and don't have bills or rent to pay and beg for me to get naked for free. I LOVE my job but it's my JOB. I need to get paid for this or I won't have food to eat, you know?

Do you have a funny story or experience to share?

I so do! I used to have this amazing customer. It was when I was working on a certain independent site that I no longer work on. He used to buy shows every week. He was also super polite. However, he had the most interesting and funny fetishes. I loved doing shows with him. I miss him. He would want me to pretend that I magically turned him into a tampon or my sock or something gross and that I would insert him into me or throw him in the trash or flush him down the toilet. He always wanted to play this game where I would take a box of tampons, write his name on one of them, and draw 5 or 10 tampons from the box without looking. If I picked the one with his name on it I got to turn him into a mini him and do whatever I wanted with him, such as put him in my bra all day and make him smell my sweaty armpits, or use him as a tampon and put him inside me during that time of the month. Those shows were the easiest, most funny and great shows I've ever done. I wish I could find that customer. I laughed a lot doing those shows. lol.

What are your plans for the future besides cammodelling?

Well, I have a BS in psychology and am currently going to graduate school to obtain my Master's degree in clinical psychology. I plan on getting a Ph.D or Psy.D in clinical psychology and opening my own therapy practice one day where I will specialize in people working in the adult industry, severely mentally ill people, heavily tattooed/pierced people, gay/lesbian/bisexual/transgendered people, etc. I want to help people who self-injure and people who are stigmatized. I want to continue working as a pso and cam model forever but I also am going to be a psychologist.

Any tips for new camgirls?

Oh, God. I have SO many tips. First of all, before you even START camming or selling your content, you need to think about the consequences and future issues. For example, if you're a parent or plan on having children they may find your porn online one day or their friends may find it and show your child/children. You have to think if you're okay having the discussion with them about what you did and why you did it. Additionally, if you're a teacher or will want to work with children in the future, be prepared to have them find out your adult past and fire you. This happens all the time.
Also, know that you WILL be recorded during cam shows. Your pictures, videos, and recorded cam shows WILL be posted and reposted on tube sites and many forums for free. You also have a huge chance that someone you know/a family member/someone you went to high school with will find your porn and tell your parents, etc. Think about if you'd be okay with this.
Also, you could make $1 one week, $0 the next week, and $1000 the next week. Your income will always fluctuate and you never know when you're going to make money or not. Also, all cam sites say "sign up here and you'll make $8000 a week!" That will NOT happen when you first start out and probably you will never make that much. You have to gain experience and build up regulars. They will be the majority of your steady income.
You have to keep records of your earnings for tax time as you are self-employed. You will need a CPA to do your taxes for you. You should have plenty of sex toys, sexy outfits, and a good HD webcam such as the Logitech c910 for camming.
There is a huge community among cam girls/sex workers and there are many wonderful forums where you can get tips, support, and answers to any questions you may have. Use these forums. Don't work too much or you will get burned out. Burn out is a big deal in this industry. Look it up on the forums.
One final and most important thing you need to know: Do NOT EVER give anyone your real name, address, city you live in, real phone number, etc. There are guys and girls out there who will want to stalk you. There are crazy and dangerous people out there and you need to keep yourself safe. Amazon wish lists show everyone the city that you live in. Don't use paypal because 1) paypal is anti-adult industry and will shut down your account and keep your money and 2) the guy sending the money will see your real name. Some guys can get your IP address from Skype when you do a cam show with them. You should download some kind of IP scrambler. They exist so find one. Keep yourself safe and NEVER do anything on cam that you really don't want to do. It's not worth it, no matter how much money. If you don't feel comfortable doing anal then do not do anal. Simple. I'm sorry for this being so long but I needed to share my experience with you guys and I hope that you pass on these warnings to other cam girls or women thinking of getting into the industry. Stay safe, stay positive, stay true to yourself, and make that money!
<3 Raven Bonanzaa36f
Superstar
January 14, 2014 - 12:06
Love the interview doll! The tampon dude sounds way cool and so fun lol Thanks for sharing, u seem like an amazing girl!

ravenskyexxx
Hero
January 15, 2014 - 8:54
aw thanks hun


ravenskyexxx
Hero
January 15, 2014 - 9:04
This came out really well. PLEASE post this on your blogs, tumblr pages, twitter, camgirl forums, etc. to help other newbie cam girls. Thanks guys


FetishMilf
Amateur
January 17, 2014 - 5:42
Great article- loved the tips Very helpful ... Thanks

katyannmilf
Hotshot
January 17, 2014 - 12:38

ShanaStorm
Jedi
January 18, 2014 - 17:51
Great piece.......perhaps motivated me to do mine...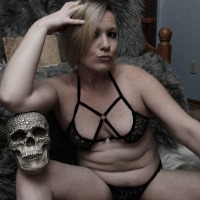 rogandamiana
Experienced
December 6, 2019 - 1:13
Thank you for re sharing this in the newsletter! Great article and made me feel better about some stuff I'm dealing with.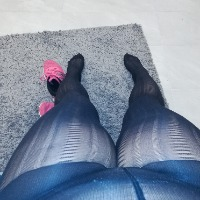 BluePerform
Expert
December 8, 2019 - 23:25
You are a wonderful person