Join Europe's best adult community and make money with chat, videos and more. Win incredible prizes in competitions, or get an own homepage.
Payment Methods
• Check (mailed/emailed)
• Bank wire transfer
Payout Percentages
30% to 50%
Payment Minimum
100 eur (to German bank accounts 50 eur)
Payment Frequency
Weekly
Concept
Premium
Geoblocking
Not yet, but it's planned
Female Models
Male Models
TS Models
Couple Models
Number of Camgirls
Several thousand, but online on the same time round about 600 at peak time
Languages
Any common language - and more
Allowed to work on other sites
Chargebacks
Yes. The amounts are forwarded to the models, but no additional fees are added.
Official Reps
StefanVX, FlorianVX, MrK, Stefan_vx, JasminVX
WeCamgirls Members
56
Incorrect or missing information?
Contact Tristan
---
Visit-X Earnings
On Visit-X you can make between 30 and 50 percent per minute/user. If you want to get paid by wire transfer you need a German bank account.
---
About Visit-X
Visit-X is a leading German cam site with a significant amount of live German porn and pre-recorded content. The cam site has been around since the early 2000s and although Visit-X is predominantly in German, much of the site is also translated into English. There are close to 65,000 registered models. The site is therefore also intended for people who do not speak German themselves, but who are interested in the site. (Most cam models speak English). Visit-X is a Premium website. With a monthly premium VIP membership, members get the first 20 seconds of any webcam sex show for free, as well as access to all of the exclusive video-on-demand originals and live-streamed shows on the site.
---
Visit-X features
On Visit-X, users have the option to take advantage of the site's basic membership and premium TV membership. The basic membership offers nothing extra and it is free.
The Premium TV membership, on the other hand, gives the user access to exclusive and uncensored premium HD videos, original programming, movies and series for every taste and all media content is uncensored. They can also watch daily live streams and TV specials for free.
In addition to the basic membership and premium membership, members can also enter into the VIP membership of the site. With this membership comes a free 20 second preview in the Live Chat of each model, exclusive VIP free show (once a month) and uncensored interviews. The VIP members can also see special live VIP cam shows.
With the Cams Next Door option, Visit x has something that you don't see often. This is an interactive geolocation map to find German cam girls by city / region. The site also features a 24-hour live stream channel with exclusive content featuring famous and popular cam girls. Members can watch dozens of live shows and hundreds of episodes through premium TV. The site has original and exclusive programming.
The TV Girls is a list of all the cam girls featured in the exclusive shows. Models can also partake in competitions on the site where the girls compete for the members' vote in themed events and periodic challenges.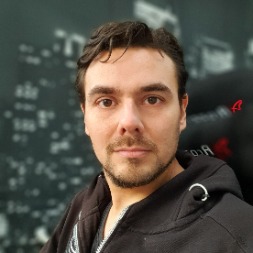 Tristan is a co-founder of this community. Interwebs nerd by day (and by night). Likes to watch sports and has gathered substantial knowledge about the webcam world, by visiting conferences and talking to (and drinking with) people from the industry.
Visit-X Reviews (by members):
Visit-X Reviews by customers
Write a review about Visit-X