The 3 Biggest Mistakes Webcam Models Make (And How To Avoid Them)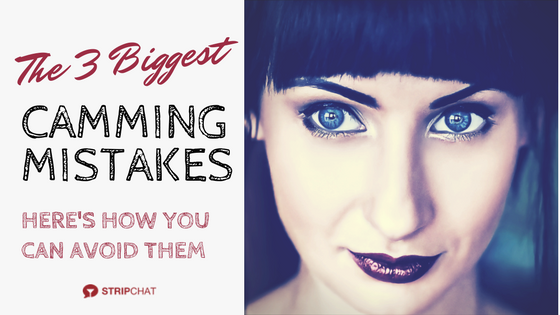 Time and time again, cam models make the same mistakes. Then they're constantly asking 'Why is my traffic not tipping? Why don't have I have viewers? Should I be doing a show for are the freeloaders?' and on and on the question list goes.

Let's get straight to it. If you find yourself questioning your cam shows, then read below for some insightful tips on how to fix your mistakes.

#1 You're NOT being a good host
Obviously, viewers come to camsites chat and watch you. Depending on the cam site you are on, you could be a 'Newbie' for 10 hours or on 'page 5' somewhere swimming among many other cam models. If you're a new cam model on Stripchat, you're in top row placement for a couple weeks, so traffic will be checking out your room. No matter what cam site you're on, viewers are not tipping as quick as you'd like and YOU GET FRUSTRATED. Sound familiar? It happens to the best of us.

Has anyone just handed you free cash on the street? Probably not. The same applies in your room. It's NOT about giving all your goodies away to all non-tippers, BUT you need to entice them. Models, use your charm, sass, talkativeness, etc. to attract them.

Here's a small yet overlooked trick: Acknowledge arriving viewers by saying 'Hey John45xxx, thanks for dropping in!' Cam models that actually TALK make an average of $500 in a couple hours - it's insane! By talking to your viewers, you're paying attention and it shows you care about your traffic. See? You didn't have to perform anything besides a greeting!

IMPORTANT: If you're split camming, STILL TALK to ALL your users. So, if you're broadcasting on Chaturbate and Stripchat at the same time, say the user's name - no one will get offended. It'll work in your favor as you giving everyone attention.

#2 You forget the MOST important info
Where's your tip menu? Your bio? Your show hours? Your likes or dislikes? Your room rules? If you don't have these in your About You section, you're making a huge mistake.

By including all the important content, you'll save yourself the time of sounding like a broken record for answering 'How much bby? Show tits,' and so forth. When users know when you'll be online, they find you reliable. You're their virtual girlfriend and their outlet for leaving all their troubles behind. Viewers obviously know that they have to pay up at some point!

It's your finesse and charisma that'll them to do it. BIG TIP HERE: If a viewer tips you tokens for the first time, he's going to end up your die-hard follower and big tipper as long as you keep your game up.

If a freeloader continues to be harassing or rude, just ban him! No point in getting upset or angry. Pretty simple and sweet. You're the boss models, be your money-making experience.

#3 You're being naive - Stop doing SH*T Wrong
This is by far one of the BIGGEST mistakes in cam modelling. Let's break it down. You're underpricing ALL your shows and you're giving away too much free stuff. (There's one other huge mishap, but we'll get to that shortly)

It's a good thing to study other models and to check out their tip menus. You'll see a trend in tip pricing, which is a good indicator that users are tipping for those kinds of acts. Another hack is to see how many followers or favorites they got too. So a good tip menu with high followers, means that model is banking some good bucks with those prices (users are willing to pay).

Don't sell yourself short. You're just as good as the next girl. So, don't do a Private, Cam, or Peep show for the default price on a cam site. You can make $4.5 every minute in a Private or Cam show, if you want.

Also, make sure to watch other models on that cam site you just joined. Dedicate a couple hours to understand what other top earning models are doing. These models make more than $5K a week and only broadcast a few hours a week. It's about being smart, not about working yourself to death.

Now the big mishap: If you want to really explode your followings, INCLUDE your social media accounts. For instance, Stripchat's social media team works hand-in-hand with models to boost their accounts. As you broadcast, viewers want to connect with you! Keep your model accounts on social media similar or the same as your model usernames. So if you're a 'MissJParker' on Stripchat, be @MissJParker on your other social accounts too. Make it easy for your fans to find and follow you around - even when you're not broadcasting.

Surely, there are more mistakes out there that webcam models make, but these were just the top three important ones that strike a chord. If you have more to add, comment below and help models avoid falling in the pitfalls of common (and sometimes unknown) mistakes.

Likes
AlisonSparks
,
AnnaCandy84
,
candytreasur
,
Capricelove
,
comocpl
,
cruellady
,
divatess
,
Flower_Hill
,
FOXXXY
,
foxydrips
,
Ginnyyy
,
GoddessClaes
,
IrinaKings
,
jackiestone
,
JayneCobb
,
Jen_again5
,
JoyKitten
,
kandy_anjel
,
KarmaKarson
,
Katehartforu
,
Krystal69
,
LadyLili
,
LeKumquat
,
LexiSkyy0606
,
LilLoli
,
liveloverock
,
MayaMae
,
MiaLoves
,
Missbehayvin
,
MissJordyn23
,
missn
,
NinaReid
,
Pazbooa
,
Royall
,
Rutger
,
RYREN
,
SandraSayer
,
Sexysparkle
,
Snowbunnie
,
Stasy14
,
Stephanie666
,
sterre18
,
SummerLovin
,
SweetBBW69
,
tessawicked
,
TinaD
,
tinykatze
,
Tristan
,
TrixieNoire
,
Vipera
,
xNafertisx
,
xodoeeyesxo
Want to write an article or get interviewed?