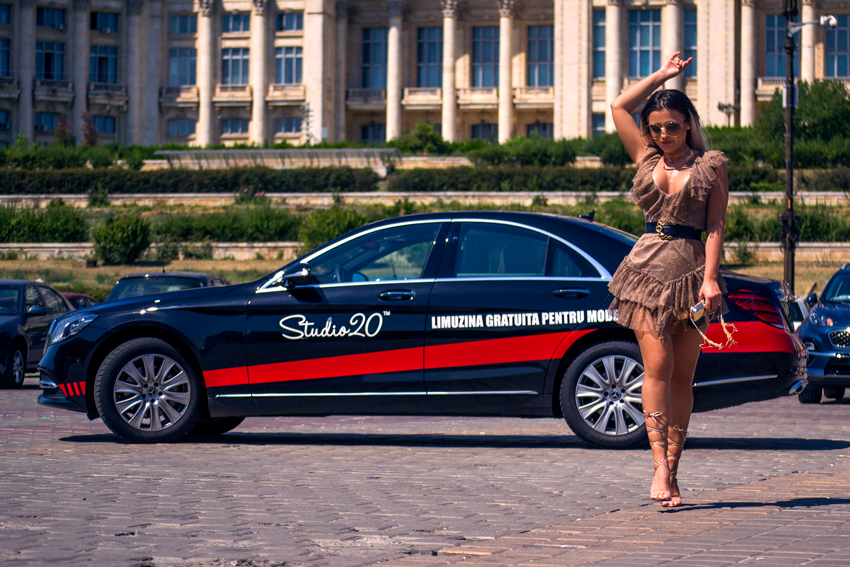 If you follow us on social media, you have undoubtedly seen at least once a beautiful, elegant car, inscribed Studio20. That is the Studio20 limousine (Studio20 Limo), one of the many benefits that Studio20 offers to its models.
What does Studio20 Limousine mean?
Studio20 limo represents an elegant and high-end car at the #girlsfromstudio20's request to take them and bring them from home safely to the studio.
"We always take care of the health of our models and staff. Working in a premium cam studio, we are in constant contact with each other, so we must make sure that everyone is healthy. The Studio20 limousine means safe cars, experienced drivers, at the disposal of the models that collaborate with us. The models choose the hours they want to be picked up from home and taken to the studio and vice versa, the driver arrives in front of the girls' house 15 minutes before and makes sure that they arrive safely. " Bogdan, manager of Studio20
Who has access to the Studio20 Limousine?
Any model, whether they have just started collaborating with Studio20 or has been working for a long time, has access to the Studio20 limousine. She has to announce on the internal Studio20 platform when she needs the limo and the driver will come. The service is free.
It is not the first time that such services are offered to our models. They have been benefiting in the past from massage, manicure-pedicure, solarium, free cosmetic surgeries, and many others.
We believe that when you work for a premium cam studio such as Studio20, everything you touch must be premium and we take care of our models and treat them like queens. In this way, we help them learn to always ask for premium treatment from the people in their lives.
"I have my car, why would I request the Studio20 limousine?"
Assuming someone would ever ask this question, we have the answers:
Because you have more time for yourself.


When driving you have to consider the traffic which is terrible at rush hour, you have to take care of the parking place or if there is a parking space. If you request Studio20 limousine, you don't have to worry about it anymore, and you can relax quietly in the back seat.

Because you can monetize your drive


Studio20 and the #girlsfromstudio20 work exclusively with LiveJasmin (Studio20 was the first cam studio in the world with a Gold certificate). Since the platform introduced the video call function, members can call you and you can set the value of your video call. In addition to this function, you can take pictures in the limousine for social media, you can post them to let your fans know that you are on your way to see them, thus increasing the engagement you have with them.

For safety


We all know that sometimes men can be quite aggressive in traffic, especially when they see a woman driving. Your last concern should be the "buffaloes" in traffic and dealing with them. Accidents can happen at any time, but with the professional drivers who drive the Studio20 limousine, you can relax.

Author
Comments
However your not Europe based, so does not reflect on those in other country's or states in which you do not affiliate with.
Haha LiveJasmin... doesn't make any sense driving models to a place "safely" where they are being exploited. A really bad joke

Just comparing Free Chat combined with getting men to take you private and Freemium sites is hilarious and pretty obvious by just looking at these girls faces - it tells pretty much everything. Pissed, mad, frustrated etc. Just like on Freemium sites... but not as bad

Yeah not my cup of tee, I really can't say how this site is still existing.

Sign up to leave a comment!
Related Posts
The New Camming Perspective (NCP) tries to look at things that are usually out of sight. An important issue I would like to bring up at this moment is the right of the image of the cam girl and the pornstar. The fact they are not well regarded/ well esteemed by the public even though this is not usually noticed. The dehumanization, when it happens, is clear: if a journalist gets a shot of a [...]
Pineapple Support and Streamate will host a 3 day wellness event, with one on one guided meditation session and webinar, to help alleviate stress and anxiety caused by the Covid-19 pandemic. To book your free 30 minute consultation, please visit: https://calendly.com/ingriddaquinpsychotherapist. To attend the Webinar please visit: https://www.PineappleSupport.org/webinars [...]
Because of COVID-19, we know that many models are struggling to keep up with their usual streaming process. Nearly everyone will be impacted in some way, so we want to offer a few suggestions that may help you stay flexible and work through some of the challenges you may be facing. Take Care Of Your Physical and Mental Health Before anything else, we want you to stay safe! Keep up-to-date on y [...]
Want to write an article or get interviewed?