Because of COVID-19, we know that many models are struggling to keep up with their usual streaming process. Nearly everyone will be impacted in some way, so we want to offer a few suggestions that may help you stay flexible and work through some of the challenges you may be facing.
Take Care Of Your Physical and Mental Health
Before anything else, we want you to stay safe! Keep up-to-date on your local recommendations and restrictions. We encourage all models to work from home if they can, and have also encouraged all of our partnered studio locations to help models transition to working remotely. Protect yourself and those around you by staying home and practicing safe social distancing. We also want you to take care of your well-being. Take breaks when you need them and give yourself some time to relax. Stress can make it hard to keep up with the basics, so try your best to eat well, stay hydrated, and get plenty of sleep. Your health is important!
Stream When You Can and Stay In Touch
It's ok if you're not on the same schedule you used to keep. Your viewers are probably making adjustments too! If you can't stream when you usually would, try to stay flexible. Do shorter streams throughout the day, or give early morning or late evening streams a shot. If you can't stream as often as you used to, get creative about ways you can stay active and keep in touch with fans during this transition period: * Send messages to your regulars letting them know how you're doing. Streamate offers a feature that lets models schedule a group message to past customers. If you know when you'll next be able to stream, let everyone know early so they can try to be there! * Make videos and take photos you can share on days you won't be online. Posting videos for sale can help supplement your streaming income. * Try setting up a subscription plan. Over at Streamate, we recently introduced a Fan Club feature. Members can pay a monthly fee in exchange for benefits, including recognition in chat and optional discounts. Get creative with the benefits you know will be tempting to your regulars!
Need More Flexibility? Try Mobile Streaming
Some camsites offer a way to stream from your mobile phone, which can offer a lot of flexibility. Since your phone is all you need, you can quickly set up and stream from any room. Start a chat in your kitchen, show off your closet and try on outfits, or take a long shower with your phone propped up on the counter. Streamate's mobile streaming service has many of the same features and high-speed technology as our desktop streaming page, and is very reliable over a strong wifi connection. It's compatible with all paid show types, and also lets you read and respond to the chat room, start a viewer funded Gold Show, or see a viewer's video during a Cam2Cam session.
More Practical Tips for Working From Home
Working from home presents some unique challenges even during the best of times, as many models already know. That's why we want to highlight
this video Streamate's Vanessa created for WeCamgirls
last year. This guide is full of practical ways you can stay focused while streaming and improve your work/life balance. The advice here is as relevant as ever (though if you step outside for some fresh air, please make sure you're following all local health recommendations).
Tell Us How We Can Help
At Streamate, we're busy making adjustments to try to help models during this time. We also want to provide a sense of normalcy, so when you log in you're able to focus and continue to thrive as a cam model! In order to do that, we would love to hear from you. If you're a Streamate Model, log into your account, find the "Support" menu and click "Contact" to send us feedback. Knowing what unique challenges you're facing will help us know what we can do to support you over the coming week and months. Stay safe!
Likes
AngelaKM
,
BarbFoxx
,
biologist
,
cassyy
,
DangerDarling
,
JenniferBarb
,
JessicaTV
,
LillyLatiaXXX
,
Nymphea
,
RosieRebel
,
SaltyGreenSiren
,
ShanaStorm
,
Tristan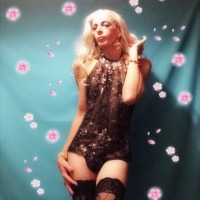 sassychantelle
Professional
April 2, 2020 - 20:27