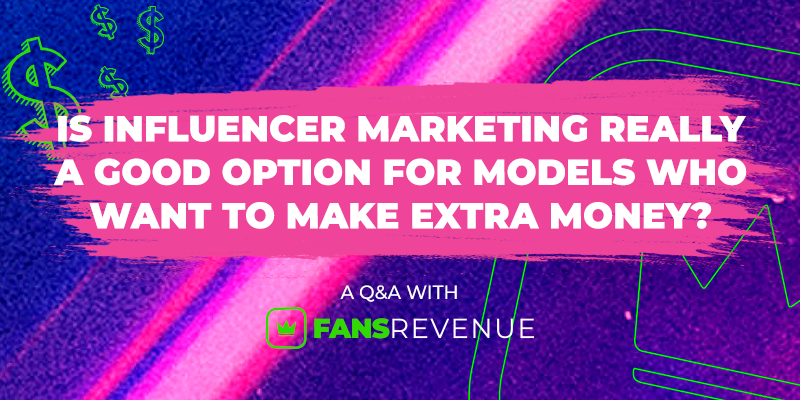 One of the topics that comes back a lot on our forum is money. It pays the bills, right? In our community, we discuss openly how much you can make on which platform, considering the different realities of all our models worldwide and their level of experience. But how about making money outside of modeling?
Influencer marketing has been on some of your radars lately, and we noticed. We heard through the grapevine about FansRevenue and how they can turn models into what they call "affiliates," basically content creators who make extra cash promoting brands on their socials.
So we got curious and asked them a few questions about what they do, their app, and of course, the money a model can make. Here's what they had to say.
WCG: Tell us about FansRevenue. What is it exactly and who is it for?
FR: FansRevenue is a fanbase monetization platform. What does that mean? As a model, you have a fanbase, right? And if you don't already have one, you build one to reach a wider audience. Well, that audience is what can bring you extra money. If you have, let's say, 30,000 who follow you on Twitter or OnlyFans and get all excited when you share content, that's a fanbase. And because they already like your content, they'll like the products you recommend. That's the basic principle on which FansRevenue was created, and it's also how countless influencers in other industries are making a ton of money on social media.
FansRevenue gives models an opportunity to find brands that want more visibility on social media to increase their sales. And these brands are already open to the idea of working with cam models. Some of them are cam sites themselves. Others are dating sites, sex toys sites, or fashion sites. The idea is to create partnerships between all types of content creators and these brands. That way, creators can monetize their fanbase and turn it into a money-maker.
WCG: Why do you also call your creators affiliates, and how does it relate to affiliate marketing?
FR: That's because we used affiliate marketing and influencer marketing to come up with the idea for FansRevenue. To make it short, in affiliate marketing, you have website owners, apps, and streaming platforms leveraging their users to make money online. Through a CPA network, they partner with advertisers (brands) to publish banners, landing pages, or video ads and cash in on clicks or sales made through their site or app.
In influencer marketing, it's the same, except that it's content creators leveraging their social media following for extra money. They partner with brands (advertisers) to create sponsored posts or share promo links in their bios to get their followers to buy a product. That's how they monetize their fanbase.
Like in affiliate marketing, models who join FansRevenue would be affiliates because they would make money through a partnership facilitated by our app.
WCG: Let's talk about money. It's a serious topic in our community. Can a model really earn a decent salary promoting brands on social media nowadays?
FR: Good question! Let's look at the numbers. In the US, a model earns on average $1,043 per week, and the more experienced ones can make up to 6k per week. But that's far from the reality of a model starting out. For a beginning cam girl, we're talking about as little as $100 per week.
With FansRevenue, we're here to watch you make some good money. We're not talking about OnlyFans money–that's about $180/month. No, good money. The type of money with lots of zeros before the period. And it's possible because we've done it with other models. Look at Sania Mallory, Helene Boudreault, and Jade Lavoie, for example. With our help, they managed to make a 6-figure income per year just by promoting cam brands. It's work, we won't lie! A cam girl has to be constant and post regularly to make good money from influencing, but it's definitely possible.
Since FansRevenue started, we've issued more than $2M in payouts to content creators worldwide. So, to answer your question, it is possible to make more than a decent salary as a model influencer marketing.
WCG: Let's say I wanna sign up. How do I do it? Is it like a membership you have to buy?
FR: No, not at all! It's completely free to sign up on the app, and it takes less than 5 minutes. You first start by choosing your top social media influence account, the one where you have the biggest following, then fill out the form and accept the term of service.
Before you can get started, our team reviews your profile to make sure your audience can fit with at least one of our brands. Once it's done, they activate your account on the app, and you can start looking for your next opportunity.
WCG: What type of brands can I promote with FansRevenue?
FR: You'll have many cam brands to choose from, but there are also dating sites for adult crowds. Suppose you want to change things a little and you'd like to promote mainstream products to your fans. It's also possible. We have sex toys, health and beauty sites, CBD products, and even fashion e-commerce sites that you can partner with.
You don't have to promote just one brand. You can partner with as many brands as you'd like, as long as their target consumer matches your fanbase.
WCG: What about adult brands? How do I promote them on IG, for example, without getting my account shut down?
FR: With FansTrace, our bio page tool, you can share adult content on your socials with an extra layer of security. It's an integrated feature in your FansRevenue portal where you can share and manage all your promo links with adult content. Your bio page links to all your social media platforms: YouTube, Facebook, TikTok, Twitter, Instagram, etc. It also allows you to track your engagement on your socials for specific offers. Keep in mind that social media platforms are always changing their regulations on adult content, so try to stay up-to-date on what's allowed and what's not on your social network(s). Of course, having a bio page doesn't guarantee that your account will never be shut down, but it definitely helps, knowing that you're not posting content with nudity directly on social media.
The cool thing about your bio page is that you can set it up like a profile page (with a profile pic and a short bio), and your fans can visit it to access your promotional content at all times. You can also share the link to your bio page on your socials.
WCG: On which basis do your content creators get paid for promoting offers?
FR: The type of payout you get depends on the offer. FansRevenue has pay-per-sale (PPS), pay-per-post (PPP), and commission (RevShare) offers:
Pay per post means you get paid a flat rate per post. As simple as that. No matter how many likes or comments you get. As long as your content is approved before posting and as long as it's published on the right social media platform, your payout is guaranteed.
Pay per sale means you get paid a fixed amount for each sale made via your unique promo links or with your custom promo codes. It doesn't matter how much follower A or B spends on the website. The only thing that matters is that they clicked on your link before buying something.
Commission, however, is different. With commission offers, you earn a fixed percentage on sales made through your promo links. Commissions are for life. As long as your promo link is posted, you can get your cut from sales made through it. Creators love that one!
Now, for PPS and commission offers, remember two things. If the brand makes money, you make money. The more sales happen because of you, the more money reaches your purse.
WCG: How do I get paid as a content creator?
FR: Our two main payment methods are ePayServices and Paxum, allowing you to get paid in your local currency through an online payment platform. So make sure you have an account with either of them. In some cases, we ACH, automated clearing house, or WIRE to pay creators with flat-deal agreements who have to create invoices for their promotional content.
On your stats page from the FansRevenue app, you'll notice your earnings will always be displayed in USD, but your money will get to you in whatever currency you use.
The minimum payout amount for deposits is 100 USD. If your total payout for a given period is lower than that, you have to wait the following pay period and make sure your earnings are at least $100 to get the amount deposited.
WCG: What type of help can I get if I'm new to the app?
FR: We have an entire team ready to help creators with their partner brands. We want you to succeed. That's why there's a pink bubble chat head at the bottom right of each page on the app, so you can reach out whenever you need a hand with marketing strategy.
WCG: Can I refer other models for a commission?
FR: Absolutely! If you bring another model to sign up and start promoting, you can get a 5% lifetime commission on their earnings. That means you make money as long as they make money. And there's no limit to the number of models you can help enroll. Worth bringing FansRevenue up next time you chat with a fellow model, huh?
WCG: Where do I sign up?
FR: Right here! Remember, it's free to sign up and browse offers. So take a look at what we have. What do you have to lose?
If you want to know more about influencer marketing for models, check out our blog for awesome content on affiliate marketing, influencer contracts, marketing strategy, and models' success stories.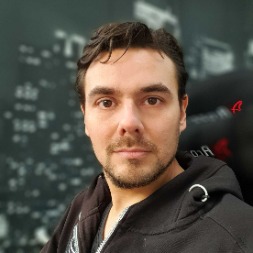 Author
Comments
No comments yet
Sign up to leave a comment!
Related Posts
Hi Frankie, thank you for doing an interview with us. I've known Skyprivate for a long time and still remember the first presentation I attended almost a decade ago at a tradeshow. The company has grown quite a bit since. But later more about Skyprivate. Can you tell me a bit about yourself first? How old are you and where are you from? And how did you come in contact with the industry? I'm [...]
Hi MissBerry, thank you for doing this interview with us. You are relatively new to the cam world and we'd love to hear your experiences. Let start with some basics. How old are you and where are you from? I'm 24 years old, I was born in MG, Brazil and moved to Portugal around the age of 2. Do you tell your friends/family you are a cam model? Yes and no, my close friends and my Mom k [...]
Hi Femme Fatale, great that you want to do an interview with us. You have a lot of experience in adult. First as a kink model and now you work for a company that is active in the industry. Can you tell us a bit more about yourself? Where are you from and for which site do you work? I am Canadian, and based in Canada. I work for Arousr.com and Arousr is also a Canadian founded and based company ou [...]
Want to write an article or get interviewed?