Interview with Harry from TXTSend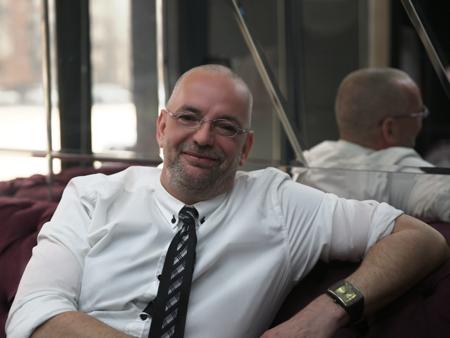 What's your name and where are you from?
Hello, My Name is Harry, and I am From The Netherlands, moved 12 years ago to Romania and residing there, with my cat.

How would you describe yourself and what is your area of expertise?
I am very bad in describing myself, but according my co workers and friends I am a grumpy cat. However, they are still my friends for ages, so I am assume they love cats


My area of expertise is webmastering, and this is a very wide concept, marketing is part of this. In the last 10 years I have focused on optimizing my skills as webmaster in combination with managing Live cam Properties and developing new concepts/websites.

How did you came in contact with the adult/cam industry?
Early 2000 I became Key Manager for Tjeeze, a Dutch Live Cam Project that was running on JAVA script and with the use of Paid Service numbers you could access by calling a special 0900 number and as extension the Webcam Room Number, it was simple and it worked, no chargeback ever generated cause it was direct paid by phone! this was a premier for the Dutch Market. The work brought me to Romania and her many studios and I fell in love with the country instantly. Project Tjeeze stopped in 2005 during the lack of technical resources to keep up with the 'new'flash competition and so we had to change our perspectives on the adult industry. We were not a content provider anymore for people to make a decent earning for the webcam model. In 2005 the Traffic became one of the most important assets, and the main focus for me was to concentrate on sending traffic to the most honest platforms, even the ones that pushed us out of the market, adapt or die. The Live Cam Affiliate Business Model: That itself is a puzzle, you'll be confronted with statistics, bugs, errors, charge backs and missing data, always being in contact as an affiliate with your top sponsors to kill bugs as fast as possible and remaining positive to keep on sending and believing and investing in partnerships. Affiliates have a intense hard life. The amount of sponsors that have closed doors without paying their affiliate partners is a ongoing process, in time you learn how to value new programs and testing them to see if they are capable to stand the test of time. The 1st sponsor program that invested in my work was Streamray.com in 2005, thanks to intensive guidance of Sean Christian, I became a top seller for them and mainly Cams.com is the reason I did not gave up on this industry.

Did you have other non adult related work experiences in the past?
Yes, since my early childhood I was working. I come from a working class family and working was for us the way to gain respect from our parents, times were hard and the economy was poor and weak. I did everything that brought me money in hands, and ones adult for the law, I joined the army. That was also the way to close childhood and start becoming a responsible adult. Life forces you sometimes to go forward.

What are you working on right now?
TXTsend.com is my newest Project, it is a Dutch Product and designed to give models an additional form of income. They can use their own social media traffic or website members from their own branded domain to boost their mobile earnings. in the second week of January of 2018 we started to sign up and approve models.

What's your point of view on the adult/cam business and how do you see the future?
The adult business in my eyes was never that interesting for me. Since the TUBE sites are dominating the market and traffic I am not even having the hopes anymore that new affiliates are still able to build up a decent monthly income. But I also know that I am skeptical and understand that there are still affiliates who come into the industry with new plans and fresh wind. I tend to learn from these people




The Cam Business was always popular, since the Yahoo Messenger was giving people the option to exchange a live cam streaming a new demand was slowly developing. Personal contact got a new layer and the world opened up more than ever before. Webcam communities have grown slowly with Baby steps and huge investments have been made by entrepreneurs who see the value in this. The development in the live cam industry is nonstop, from 2D we went to 3D and now with our headsets on we are moving around in her room like we are in there in real person. This can only develop more and more, there is no stopping, the ladies in this industry have acquired some sort of independence, and we welcome this! The idea that a performer can manage her own work and arrange her own life without the need of a partner/person (besides the support manager of your account) is the best situation ever. The Live Cam Industry has made many people more aware of their own strength and independence and it has created many surprises for many performers.

What are your plans for the future?
I tend to remain in this industry a lot longer, this is mainly because I am very comfortable with my results and the progress in general. However, I think for a more detailed future that the affiliate market is still not optimal and will change in various ways. I am just not sure in what direction this will happen, but that it will is a fact. Sponsors will become more aware that most of the traffic comes from their affiliates who handle different promo techniques, this can mean many different sources of traffic, higher sales ratio, more money in the pocket for sponsors , although, not every program thinks like this. Some are seriously battling their own affiliates.

Do you have a motto?
No, not at all. In this ever changing world I was not able to sit down and think about a Motto, sure there are saying that guide me through the life, like:
- Lose Lips Sink Ships.
- Always think 2 seconds before you answer.
- Those who talk all the time have a empty head.
- Money Talks Bullshit Walks.
- Never trust someone with something only you can handle.
- If you want something done good, do it yourself.
Likes
AnnieSimon
,
ArikaSilk
,
AubreyInk
,
Camkitttie
,
candycaine
,
foxydrips
,
IrinaKings
,
Katidiamond
,
LolaMuah
,
SinDerella
,
Tjeezers
,
Tristan
,
VampireOne
Want to write an article or get interviewed?