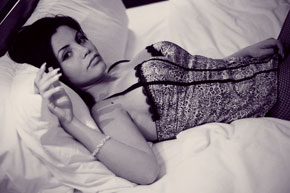 Alexandra Georgia aka One Great Diva has been in the cam business for eight years and this year she will be organizing a new major event, LiveCamAwards. The first Live Cam Awards show 2015 will be held in March next year in Sitges (Barcelona). Models, camsites, webmasters, studios, affiliates or other live cam related business will be awarded and in this interview we will learn a bit more about her as a model and how and why she expanded her business.

How old are you and where are you from?

I turned 28 years old in August, born in Bucharest, Romania. And yes, that's my real age. I never hide my age as a cam model, always had my real age on my profile, *wink* never hide my location neither, I am proud of my nationality, I know many cam girls might choose to hide that, for various reasons, from privacy to advertisement, but I strongly believe that you gotta be honest to yourself in order to build a honest bond with your members, of course within the limits of your personal life privacy.

How did you come in contact with the cambusiness?

Oh gosh, that was so long ago, in the Ice Age. I am camming for more than 8 years now, started in the girls category as everyone else, but I found myself uncomfortable with it pretty fast. I was nasty with my guests, I was serving them sarcasm and I was being rude, almost got banned from the site, as there were many complaints regarding my behavior. I was not fitting the profile of a nice and sweet girl, ready to giggle and please everyone


Even though, I did not wanted to quit so I was seeking alternatives, this is how I found the Fetish category, where I could just be me.

How would you describe yourself as a cammodel and what is your area of expertise?

First of all, I have always been an independent model, never worked in a studio. I am a soft-core fetish model, not a hardcore BDSM mistress, but yes, I am the dominant part all the time. I created my online presence tailored to my personality, I am quite a bitchy snob in real life sometimes, haha, joking... I specialize mostly in foot fetish, fin dom, and all their other derivated fetishes.

How was your first modelling experience?

I remember it as if it was yesterday, the minute I logged on for the first time I got a member from Florida. He spent the whole night with me, talking about so many things, joking, having a great time. I was like hell yes, I'm being paid to have fun!
The next day I found out that it was his first day as a member too, so he was as clueless as me.
We actually kept in touch over those years, even if he doesn't visit cam sites anymore.

What's the most appealing thing about the job?

Well, at first, there is money, right? I think this is what leads most people to search for this kind of job. The sky is the limit in the amount of money that you can earn, and it's all depending on you, how much you put into it, how much time you work, if you offer a good quality service, etc. unlike other jobs where it's hard to achieve big financial results right in the first month of activity. But after a while, you get to count more and more advantages, and you get to develop yourself as a person in many ways.

What do you like least about the job?

There is nothing that I like the least, or I dislike. More than that, at this point I hate the fact that lately I haven't been able to find time to be online as much as I wish, but I'm working on it



Organizing a major event like the LiveCamAwards sounds totally different than being a webcam model. Where did you get the idea to do this?

Well, I have always had it mind somehow, it just wasn't the right time, I guess. I think that this huge industry is finally prepared to award their pioneers. The number of industry show events is growing, more and more models are ready to embrace fame and celebrity, finally. If at first, it was not a job that you would put in your CV, now we came to a point where models fight for being number one, they finally promote themselves, they don't treat it as a job, they treat it as a career, that's what I did too.
I was lucky enough to have the support of my friends and family and I never kept it as a secret.

Do you have other experiences with organizing shows?

Not this kind of shows, even though I have been attending industry shows for the last couple years and I have always paid attention to organizing facts. I have a very close bond with all the live cam industry reps and they always send me their feedback and suggestions in order to make the most of it, I am very thankful for the support of all our sponsors: Jasmin, XModels, Camplace, CamContacts, Chaturbate, Affil4you, Imlive, ModelCentro, Chaturbate, and many more to be added soon.

Do you like organizing shows like this and are you planning to continue and/or do you have other plans for the future?

The event will go on an annual edition plan, at least that's the plan for now, hosted during The European Summit, in Barcelona.
It's a huge opportunity for models and cam studios to actually come and meet live cam sites managers, do business and have fun, in the same time.
This event aims to become the Oscars of the Live Cam Industry.

Do you have a funny story or experience to share and maybe some tips for new cam models?

Oh I have way too many funny stories and I find it hard to pick one right one. As for tips, I would like to encourage new cam models as well as experienced ones to work hard, to make the most out of their jobs, to stay confident in themselves, to expand their business, to study, yeah, no joke! Always read, always study, you'll be amazed of how many things you can learn out there that can be applied to your camming job, from building your own brand, to building your own blog, personal site, photography, video edit, international languages, even online marketing classes, all those things will help you grow. Treat it as a business, don't be lazy, be professional, take good care of your appearance, don't sell yourself cheap, and great results will follow.

What's your motto?

I don't have a certain motto, but I do like motivational quotes, and I always listen to music that has a strong motivational message, I advise everyone to try that out, it fills you up with a good vibe.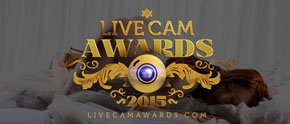 Good vibes attract good lives!

For more info please go to the LiveCamAwards topic, Twiter or LiveCamWards website.
Likes
AprilsBody
,
ArikaSilk
,
cruellady
,
DaisyRay
,
EstherH
,
Ginnyyy
,
GoddessClaes
,
jade4you
,
LILASTONE
,
NatashaPink
,
SexyBunny30
,
ShanaStorm
,
Tristan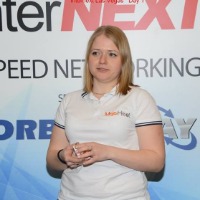 NatalieMojo
Hero
December 3, 2014 - 23:18
Modelcentro is proud to support Live Cam Awards! Great event, organized by an extremely talented and beatiful model, is bound to be a huge success!

SkyPrivate
Overlord
January 18, 2015 - 21:34