In the Spotlight will be a new returning topic on WeCamgirls. Today's guest is LilyWhite. Thank you for your time and enjoy the read!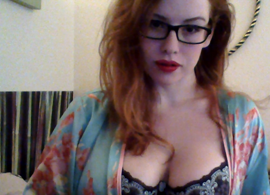 How old are you and where are you from?
I am 26 and I'm in the western half of Canada.

Is webcam modelling your day job?
Nope, I have soo many jobs. Starting my own counselling business, and working in the wedding industry as well.

How did you come in contact with the cam business?
A friend of mine told me about it, I didn't need to hear much before I was diving right in!

How would you describe yourself as a camgirl?
I try to be as real as I can while still protecting my privacy and boundaries. I really like to be as sexy as I can be and tailor what I am doing to my client, but I try not to stray into being too fake. I really like hearing about people's fetishes and showing them that I won't judge- and maybe even making that fantasy come true!

Where can we see you and how long have you been working there?
IMLive- This is the site I started on 4 years ago
MyFreeCams- 3 years
CamGirlCollective- a few days
Extra Lunch Money- Just signed up today!
Privately on Skype- super new to this as well, but excited to offer it!

Do you have a special room prepared in your house for your shows?
Nope, you get to see my real bed!

How was your first modelling experience?
It has been great. Once you get past the guys who just type "tits, tits, tits, tits..." there are some amazing and respectful men out there who have made me feel beautiful.

What's the most appealing thing about your job?
It boosts your confidence!

What do you like least about your job?
Sometimes I'm not in the mood to perform and there's nothing I can do to change that.

Do you have a funny story or experience to share?
Most sites prohibit animals from being on screen when you're camming, and I have to tell you, it's hilarious watching me try to convince my cat to leave me alone when I'm camming. If you look closely, you may just see a tail float through the background.

What are your plans for the future besides cammodelling?
Starting my own counselling business and being completely self employed!

Any tips for new camgirls?
Don't go online if you're self esteem is low to start with, the pressure to perform can just make you feel worse. Bonanzaa36f
Superstar
January 22, 2014 - 23:29
Great interview! I too love when I help others make a fantasy a reality! Total perk of the job! Xoxo good luck in all your ventures, you sure are a busy gal!