Five steps from amateur to pro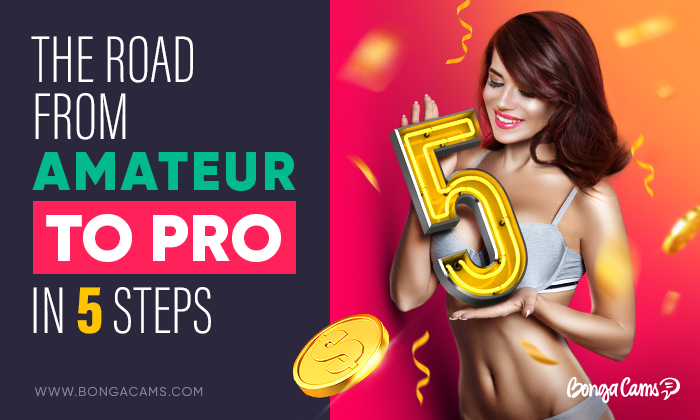 Model business is unique - you don't have to have a special education, experience or skill to become successful in it. It provides full freedom of action and huge earnings which are limited only by the imagination of a model. Despite that, it has its own difficulties.

Every day thousands of new models appear and any website, including BongaCams, seeks for new ways to make their models as successful as possible. In order to send newcomers in this business in the right direction, BongaCams has created a department of personal model managers who are ready to provide individual support at any time, solve any issue and make the way from the Amateur to the Professional much easier.

BongaCams decided to share their thoughts and tips on this matter and identified 5 extremely important aspects of the work of a webcam model.

Tip # 1 - Technical component.

Your camera simply MUST transmit a good and clear picture.

Most webcam platforms do not require models to have a professional camera in order to broadcast, but why should I, as an ordinary common user, look at a bad picture when there are dozens of better options? If your budget does not allow it - start with something you have, but after receiving the first payment, do everything you can to acquire the best equipment possible. There are many cheap high-quality cameras on the market that will greatly increase your broadcast quality.

Now let's talk about your microphone. It doesn't matter if you have a built-in or separately connected mic. The most important thing is that you DO have it and it is turned on. To disable the microphone completely or to enable it exclusively on demand for money is a big mistake. Give users an opportunity to hear you.

Pay attention to the quality of your stream. A good cam will give the picture quality and clarity, but with a poor Internet connection, you will not achieve the desired effect. Make sure that the speed of your connection is stable and monitor it from time to time. If there are difficulties and you do not know how to handle them - ask for help. Ask a friend, call the technician or contact the site's support service. If you are a model of BongaCams, then our technicians will find you and help you set everything up.

Tip # 2 - Your stage name and your profile.

Registration always starts with choosing a name and you need to take it seriously.

The name you choose will be your brand in the future, so do not choose something that's hard to remember. Your name should sound beautiful, be easy to pronounce and crash into the memory after the first look. And, of course, the most important thing is that you love it yourself. Look at famous porn actresses like Sasha Gray - her pseudonym is easily pronounced and easily remembered. If you have difficulties with the selection, try nickname generators, they will quickly pick up a couple of dozen good options.

Next, take up the profile page. Each model of any webcam site has a profile page, but not everyone considers it necessary to fill it. Users want to get to know you better, so give them this opportunity. Fill your profile with the maximum amount of information. It doesn't have to be real - make a legend and live it every time you are online. Fill in the BIO, add photos and videos, write a few words about yourself, what pushes you and what excites you.

You cannot even imagine how skillfully filled profiles make a tremendous difference in a number of users who clicks to enter your room. BongaCams knows how important the profile of the model is and our team of designers will happily make you a beautiful profile absolutely free.

Tip # 3 - Workplace, clothes, and appearance.

Your workplace should be as comfortable as possible.

Make sure there is enough of incoming light - it strongly influences the quality of the image. For the best result, it must go from behind of your camera at about 45 degrees at you. Don't be afraid to experiment - try to use different types of light and change the location until you find an ideal option.

The camera likes brighter colors. If you are used to wearing gray or black in common life, then this habit has to go for the time of online sessions. The frame looks much better with colors such as green, red, pink, yellow, purple.

The same goes for your makeup - do not be afraid to apply a brighter one and to try new things. It can be uncomfortable for the first time since in normal life you would never have made up so much but do not worry, everything looks different on camera.

The keyword in this business is "MODEL", therefore it is necessary to always look appropriate. Do not go online without makeup or with dirty hair. Try to be different and change your style and clothes. Think about what attributes and toys will be used during the session and put them in the broadcast zone. If after every request you will need to leave the camera zone to bring something, members won't like it at all. It can lead to a lost user.

Tip # 4 - Personality, behavior, and style.

Men visit adult sites not only to satisfy their physical needs but also to cheer up and to diversify their monotonous routine and boring life. The member should always feel your positive vibe, so let a friendly atmosphere always remain in your room. This will cause them not only to stay but also to return to you next time.

Create an atmosphere of excitement and fun - smile, laugh, joke and flirt. Be diverse, stand out from the crowd, play games, set challenges, offer prizes, add creativity to everything that you do. Get to know your customers and enjoy the time you spend online.

Do not work in a bad mood and do not lose your temper, if something goes wrong or not as you planned. If you feel that the mood goes to hell, then it's better to go offline and come back next time. Users want to believe that you really want to be online now and spend your time on them. In reality, each of them knows that this is your job, but money is not what they should be focused on right now.

Tip # 5 - Website promotions and social networks.

When you discover a new cam site, take the time to study what promos they offer for new models. The period of the "New Model" does not last long, so do not delay it. On BongaCams, new models can click on the "1st place" button to appear on the main page of the site. It is very helpful to quickly recruit numerous people into the room. If you did not know about it, you would lose an excellent opportunity to advertise yourself.

Social networks are an excellent way to interact with both your existing audience and fans, as well as attract new faces. However, not all social media are positive about adult content and many models are trying to shy away from Facebook because of its tough attitude towards adult industry.

Twitter is absolutely the reverse side and the platform is friendly to this business. Therefore, if you do not have a Twitter account, then it's time to create one, but use the same name that is used on the webcam site. Thus, it will be easier for users to find your profile. In addition to creating an account, you need to take an active part in its life and try to update the content at least once in a few days. Do posts not only from the life of the webcam but also from your everyday life - upload photos from your vacation, tell how the day went, share a fun story and so on. Your page should become something more than just spam.

If you're just starting to tweet, then there's a little life hack how to get a lot of subscribers in a short time. Look for pages of popular webcam models, see who reads them and subscribe to these guys yourself. It is very likely that they will subscribe to you in return. Continue to do so for 20 minutes every day and after a short time, you will gain an impressive base. Do not add all people at once, as Twitter can mark you as a spammer and freeze your page.

We have identified important aspects, observing which, the path from the model-amateur to the model-PRO can be noticeably reduced. If you need even more advice, then feel free to contact BongaCams because our model managers are always happy to help.
Likes
AnjaMorganX
,
ArikaSilk
,
azraell
,
Camkitttie
,
CGDOLLHOUSE
,
Darcydevin
,
DivaTraffic
,
DonaDiabla
,
EvaFoxxxy
,
FOXXXY
,
Freebird15
,
hubbylilslut
,
JadaSkyy
,
Jen_again5
,
J_Lafitte
,
Lanalove
,
LexiSkyy0606
,
LolaMuah
,
Miss_Leh
,
NinaReid
,
Paisleyluves
,
PrettySuzFun
,
SammiJayne
,
starlight
Want to write an article or get interviewed?