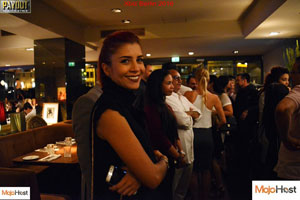 We've met Mia during the WMA in Amsterdam. She works in the business in Columbia for a company called JuanBustos. The Latin American cam industry is growing very fast and most of you might not know, but there are over 40,000 cammodels in Columbia alone. Some even speculate that it will be the new Camcapital of the world.
Who are you and for which company do you work for?
I am business Development manager for
JuanBustos.com
JuanBustos.com is a company that trains webcam models in how to become Top models in the sites they work with. The company has an interdisciplinary team of psychologists, trainers and image consultants that teach the models how to do their makeup, dress and also teaches the models what to do in every moment of their workday. Also offers help with profiles and how to brand the models names. Everything is done through the blog
How did you get into the adult industry? How long have you been a part of the industry?

I started in the industry 3 years ago. I was a model and used to be advised by Juan Bustos but as I didn't longer want to be a model I started working with Juan in the company helping with audiovisual content for the blog, advising models and at some point I started doing translations for the blog and helping with the branding of JuanBustos.com.
After attending industry events I ended up in charge of the business development and International relations of the company. I have been in this position for 1 year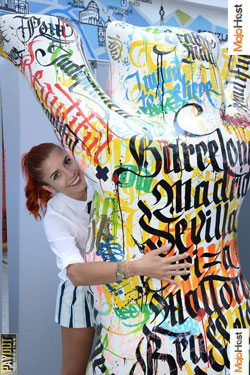 What is your ultimate goal for your company / site? What about for the cam
industry in general?
The company wants to change the perception that working as a webcam model has in Colombia, we all work very hard to make it a job like any other and for people to know what it is really about. Also keep educating models to help them become top models and brands.
In the cam industry, we want to be the biggest figure in all regarding live cams.
What can we expect from your company in the near future? Are you going to introduce new features?
We are starting an online conference in the blog where we will have professional models and advisers giving speeches in a chat room about how to become a professional webcam model. The training will be in English and Spanish and all the models who want will be able to participate and find answers for all their questions regarding live cams.
What are the best and worst things about working for a company that is involved in the cam industry?
The best thing is for sure the people. Everyone is so helpful in the industry, they all support each other, they give you an awesome welcome and with the time many of them have become my good friends. I also love the fact that being part of adult industry gives you the possibility of expressing yourself completely and truly
What is your off-the-job life like? And do you tell everybody that you work in this industry?
The most of the time I am working, I am traveling more often than I am at home so I donīt do much outside work. I love traveling and seeing new places but as work already gives me the opportunity to do it, when I am at home I love to stay in with my four cats. I also have a small cat shelter where my mother and I help to find homes for stray cats.
I like a fitness life style so I like to eat healthy and I go to the gym or to run every day even when I am traveling.
Do you have any funny stories about working in this type of job? What's the strangest thing that's ever happened to you?
I donīt have many stories myself, but once in one of the events one of the fans that was attending to meet the porn stars asked me for autograph, I asked him if he was sure about it because Iīm not a model or actress but he said yes and said my name so I gave it to him but Iīm pretty sure he was confusing me with someone else.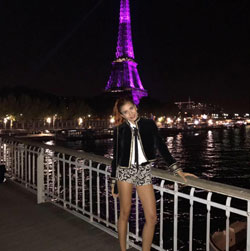 Is there anything you'd like to "clear up" about people that work for camsites?
It is not an easy job like everyone thinks, for the models it's a 24 hours job, because they need to take care of many things outside of cam such as having a perfect personal presentation, keeping a healthy body, developing new talents, learning languages and preparing shows, also working in their social networks and answering messages from their followers. And on the other side there is a big team working behind them to make it possible, photographers, designers, assistants, are some of the many people that help in the making up of a broadcast; without talking about the sites that are the tool that brings the models and uses together and make the broadcast possible.
What is your best advice for a new model on your site?
My advice for models is to use their names to become a brand, to take their job seriously, make a website, make branding, work hard in strategies to gain followers, using social networks is very important to sell their image, and always try to learn new things, languages, sports, arts, things that can help them become a complete and interesting person and brand.
How do you deal with scammers/chargebacks/nasty clients?
Our models have a very particular way to work, very esthetic is a good way to call it, so normally they donīt have to deal with many nasty clients, when they have some bad ones, their friends in the site kick these users out, for scammers and chargebacks is something the sites take care of its not our job.
What is your motto?
Nothing is impossible, working hard if you believe you achieve.
Likes
Tristan
,
Rutger
,
Zoe_Azuli
,
tamymoore
,
Ginnyyy
,
MrSexxxyBbc
,
PrettySuzFun
,
DonaDiabla
,
missn
,
Katidiamond
,
EstherH
,
Miss_Leh
,
Adele
,
ArikaSilk
,
RubberDuck49047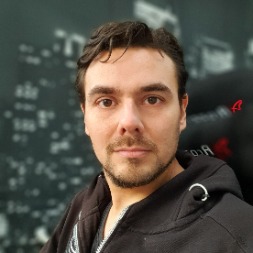 Author
'Love is a serious mental disease.' - Plato Phaedrus
Comments
Sign up to leave a comment!
Want to write an article or get interviewed?