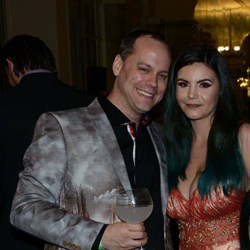 I'm happy to introduce to you Brad Mitchell. He has been a driving force behind a lot of website in the adult/webcam industry with his hosting company MojoHost and he will be co-hosting the upcoming Live Cam Awards event.

How would you describe yourself and what is your area of expertise?

Hi Tristan, thank you for the opportunity to interview with you. I started in the adult business in 1999 as a pay site owner and affiliate. In 2002 we started MojoHost as a service provider to begin hosting customers and once that took off, I sold the web sites. My years of experience as a webmaster and site owner have given me a unique experience that I feel truly benefits our clients. We are experts in applying the most current technologies and creating robust, scalable and affordable hosting solutions. From small web sites to many of the largest on the internet, MojoHost is the trusted provider of choice.

How did you came in contact with the adult/cam industry?

I have been working with cam companies in different capacities since attending my first adult industry conference way back in 2000. Some notable cam companies that we have done hosting for include Live Jasmin and CAM4. CAM4 chose MojoHost very early on in its development and we are thrilled to have been a part of their exponential growth since such an early stage in their business. Besides having small and large cam sites as hosting customers, I do my very best to be involved at industry events to further my knowledge and those of other fledgling businesses. I very often moderate and participate on educational panels.

Can you tell a bit more about the Live Cam Awards?

The Live Cam Awards is an opulent affair that takes place in a gorgeous estate outside of Barcelona. This more intimate setting allows attendance of several hundred people and includes the industry's most recognized live web cam brands and studios. Starting with luxury transportation from the show hotel, guests of the event are treated to an open bar and formal dining experience. The awards exist to recognize and honor the hard work of industry professionals both in front of and behind the camera. Through a variety of categories, top performers and the companies they work for are awarded for excellence.

When were you asked to co-host the event?

Alexandra (the organizer of the LCA) asked me to co-host the awards show in the middle of 2016. I give her tremendous credit, there are many details and significant planning that goes into her design of the Live Cam Awards. As a person who has attended about 200 conferences, countless events and dozens of award shows, I have always been impressed with her ability to deliver such an amazing experience. It means a lot to me that she has asked for me to participate as her co-host, I value her friendship and truly appreciate the opportunity to be a part of this evening.

Do you have other experiences with hosting events?

While I have hosted many events for client and industry entertainment, I have been the host of an award show only one other time. I have received more than two dozen awards for MojoHost and other professional recognition, but nothing quite prepares one for being a host like the experience itself. Last year, I was honored to co-host the first ever adult award show in Latin American as part of the LAL Expo with famous Colombian porn star Esperanza Gomez and Alex Lecompte, industry professional with JuicyAds. I found the experience challenging, enjoyable and rewarding. I am hopeful that my performance will be even more successful this time.

What's your point of view on the adult/cam business and how do you see the future?

With so much stolen content on the internet, I believe that the future of live entertainment is secure. As with every other facet in the industry, things will always change over time and as technology progresses. Innovation in the live cam space with virtual reality and interactive devices is an exciting area that we will see much growth in the coming years, I believe. Competition is quite fierce and as it matures this will heighten the challenges that cam platforms and models face. The customer experience is most important and I believe that revenues will continue to follow performers and cam sites that treat customers the best. With more talent and sites online, this is likely to further compress price competition, also.

What are your plans for the future?

I am excited for our future at MojoHost. With US hosting at www.mojohost.com and EU hosting at www.mojohost.eu, we have the technology and infrastructure in place to host everything coming next. Innovations in technology are enabling small startups to have great products online at affordable prices. We are very focused on the future of our MojoHost Cloud. I look forward to offering it publicly in 2017 to clients with compelling features that compete directly against the world's largest cloud offerings. We are fast, reliable, affordable and have customer service second to nobody.

Do you have a motto?

To seek out only the most qualified internet companies, convert them to customers, provide them with the highest quality hosting experience - and be the last host they'll ever need.
No comments yet