In the Spotlight will be a new returning topic on WeCamgirls. Today's guest is JuliaStorm. Thank you for your time and enjoy the read!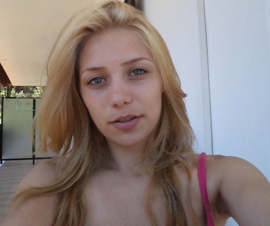 How old are you and where are you from?
I am 22 years old from Romania.

Is webcam modelling your day job?
Webcam modelling is my main job, I also take part time webdesign and web programming projects.

How did you come in contact with the cam business?
I was looking for a job in the newspaper trying to find a part time job as a waiter. Some video chat studios were having their adds there too so I got curious and did some research.

How would you describe yourself as a cam girl?
I am full of energy most times, talkative, sharing and sometimes a really moody bitch.

Where can we see you and how long have you been working there?
I am mainly on MyFreeCams.com, i am there for 4 years now.

Have you also been working on different sites?
On other websites i just go occasionally, so i don't think is worth mentioning.

Do you also have a personal website?
I didn't really see the point in having one since my fan base is quite small. Plus i prefer live shows anytime over videos ( which would be the main point of having a personal website)

Do you have a special room prepared in your house for your shows?
I converted one room in any apartment I've been living in into my camming place...feels more dedicated and helps me get in the mood.

How was your first modelling experience?
I am going to start with giving you a description of how the things were.
Was night time 8 pm in the winter, i come to the video chat studio to get on cam for the first time, my trainer is really nice and supportive.
I put make-up on while taking tips on how to (i am still horrible at doing that). My trainer helps me pick an outfit. Black bra, see thru black panties and a looong see thru sort of baby doll looking thing, really elegant. I am all cool and feel ready...we start the computer while she fills me in with some last tips on how the website works. I am all set. We start the camera, i am sitting down with a straight arched back (as in school),frozen solid.My trainer was doing the writing for the first minutes so i can understand how a chat goes on the website. All of the sudden my mind goes like: Oh my God!!!!What am iiii doiiiiing heeeeere? All these features, how can i ever learn this? Wth am i supposed to do, how? After like one hour of this i hear my trainer going...listen, you are new here, you don't have any members of yours...that means you have to work a bit harder in the beginning. Think of what you think you can do and would feel good so you can also not be this tensed, let's pick a topic. I chose dancing and flashing.
Once the dancing started all has gotten into this horny teasing mood, the trainer saw i can handle it and left me alone in privacy with the members passing my room wishing me nicely: 'Welcome to MFC!'

What's the most appealing thing about your job?
The masturbating shows i do and the chatting.

What do you like least about your job?
Models that troll my room at occasion.

Do you have a funny story or experience to share?
Well, i think my newbie story was quite funny but i am just gonna mention a few of them.
One of the funniest story is how a guy explained me half of hour to go in the position doggy on a side on a diagonal angle from cam, is amazing how much patience he had (i was talking a really basic English).
One of the more recent funny stuff was when i learned how to do a backspin in front of the camera. Or once i was doing this really hot, athletic limber chair dance...at one point i got to spin on the chair standing perfectly horizontal with only my legs keeping me on the chair while tensed.
I fell with the chair...the hour following was one of most full of laughter hrs...for me as for most of my room.

What are your plans for the future besides cammodelling?
Well i have a programming job offer in March/April, i am not sure that i will take it, but if i do i will either have leave mfc or cut down the hrs.
In the next 3years i also plan to build my house up. I think that pretty much covers all my spare time)

Any tips for new camgirls?
First of all enjoy, always have a topic, try to write down some ideas (in big lines) of what you are going to do, be nice and respect the members that respect you. Pick a nickname and stick with it. But most importantly...you are the Queen of your room, you control everything, don't ever let anybody get to you. Bonanzaa36f
Superstar
January 9, 2014 - 21:42
Nice to meet ya! Great interview! I have wondered how the studio thing works, thanks for the insider view lol best of luck to u dear! Dream big and keep pursuing it, it will come to fruition! Xoxo

JuliaStorm
Professional
January 10, 2014 - 12:36
Nice to meet you too. Well, that was how my first and only studio worked, i practically fell inlove with how it worked, i know some other ways of how studios work

. If you want to talk more about it feel free to PM me. Thank you for the nice words. TexasBabe40
Wizard
January 10, 2014 - 13:59
Nice interview! Thanks for sharing this


katyannmilf
Hotshot
January 12, 2014 - 6:05

JuliaStorm
Professional
January 15, 2014 - 21:03
Thank you girls