In the Spotlight will be a new returning topic on WeCamgirls. Today's guest is Cliche. Thank you for your time and enjoy the read!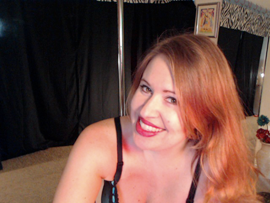 How old are you and where are you from?

I'm 35 and from Virginia in the U.S. Born and raised in the South.

Is webcam modelling your day job?

Yes, being a camgirl is my day job.

How did you come in contact with the cambusiness?

I first heard about it 2010 when I was in a chatroom for people interested in anything Pagan. I kept being stupid, flirtatious, making jokes, and someone there commented on how I should be a camgirl. He even took me aside to explain what that was, giving me a link to MFC. But that site was pretty overwhelming and thought there was no way I could compete with all those thousands of other girls; figured I would have to look like a porn star to do that. And I never thought about it again.

Then, some time in 2012, I was looking up some gangbang porn and there was a pop up window that hid behind the porn I was looking at. After a while, I heard some girl talking, found the window, and started watching what was happening....I always thought they were recordings made to look live; don't know why I thought that...but I realized that what I was a watching was happening in real time. There was some tattooed 30-something woman interacting with guys in a chatroom, getting them to pay her 50 Gold to take her top off, and they paid!

From there, I just started clicking around, searching, getting a feel for what the heck was even going on? Eventually, I found some ladies who seemed offbeat and not your standard porn-star-look-a-likes with large followings. And at this point it begins to dawn on me that, "Yeah, I could do this."

How would you describe yourself as a camgirl?

To someone who doesn't know what a "camgirl" is, I'd describe myself as someone who does 21st century phone sex. I do phone sex with a webcam.

To other camgirl's, I'd describe myself as the type of camgirl who is just really into being a performer. My hustle involves giving the clients lots of warmth, sweetness, smiles and several ways they can spend their money to escape; even if they aren't feeling particularly sexual.

Where can we see you and how long have you been working there?

Y'all can find me at http://Cliche.Cammodels.Com and I've been working there since September of 2012......but, I always tell the clients that I'm new. I always say I just started "a few months ago."

Have you also been working on different sites?

Kinda. I started out on a site for psychics called Oranum, because my background is being a 900-line tarot reader. I've only recently switched over to the more lucrative dark side and moved beyond just Streamate (Cliche.Cammodels.Com).

Now, I have a profiles up at http://www.camgirlcollective.com/ShanonRaeCliche/ and at http://extralunchmoney.com/user/Cliche

Do you also have a personal website?

Nope. I'm kinda laying low in this field. I just get in, make my goal for the day, and gtfo.

Do you have a special room prepared in your house for your shows?

Absolutely! My living room. My first love is pole dancing and that's where my pole is, so that's my all around performing room. Doing all my nasty stuff for shows on the floor.

How was your first modelling experience?

Perfect. My first job involved a man who wanted to hear me laugh. So, I laughed and laughed for 4 minutes straight.

What's the most appealing thing about your job?

Getting the chance to pole dance professionally without having to leave my house; or really be any good at it.

What do you like least about your job?

I get so damned sweaty!!!!!

Do you have a funny story or experience to share?

Some of these guys and their kinks! That's the stuff that amuses the heck out of me. Like, I'll be private with a guy who wants to role play that he's a truck and I'm a gold fish and I have to tell him what a great big fast truck he is, what big black tires he has, wow! listen to his engine purrrrrr, makes me want to swim around in circles, gets my fins all slippery, then I make fish lips (where I suck in my cheeks and wiggle my lips, you know?). But we're only in private so, on Streamate, others can come in and perv on what's going on....I always wonder what in the heck those guys think of what's going on? And I love it when these interlopers decide to stay and start digging on whatever weird-ass role play is happening. (for example)

What are your plans for the future besides cammodelling?

I'd love to move back to California in a year, that's the big fantasy right now. I also study Human Design, which uses your birthday to calculate a chart of your aura (it's similar to astrology), and in a few years I'll be a certified analyst. That's when I'll start my own Human Design website.

Any tips for new camgirls?

Only do all the anal YOU want to do.

MichelleDeTX
Hero
March 18, 2014 - 18:00
Cool write up Cliche, I spotted you on a cam girl vlog on youtube and your bubbly personality still shows


ShanaStorm
Jedi
March 20, 2014 - 18:54
Luv ur story! Nice article....