In the Spotlight will be a new returning topic on WeCamgirls. Today's guest is CCsDesire. Thank you for your time and enjoy the read!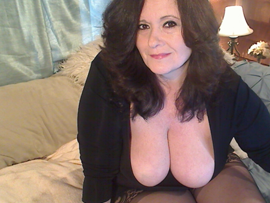 How old are you and where are you from?
I am 48 and from Connecticut.

Is webcam modelling your day job?
For the past 2 years this is my only job.

How did you come in contact with the cambusiness?
A male friend suggested doing this when I was looking for work to do out of my home.

How would you describe yourself as a camgirl?
I am a BBW who loves to tease and be watched, so this was perfect for me.

Where can we see you and how long have you been working there?
I started on Jasmin 2 years ago now, then added Cams a year later and also on Streamate which I started last February.

Have you also been working on different sites?
I am trying to get more Skype shows and work more independently now.

Do you also have a personal website?
I do have a website http://www.ccsdesire.com which I started a few months ago.

Do you have a special room prepared in your house for your shows?
I use my bedroom to work in and it takes about 15 minutes daily to ready the room for work.

How was your first modelling experience?
My first experience wasn't to bad, on jasmine you start out with .98 special. It was quick and very busy to make that first hundred dollars. It was done in a few hours.

What's the most appealing thing about your job?
What I like most about doing this is the hours and being home when needed by my family.

What do you like least about your job?
Some of the guys can be rude and demanding.

Do you have a funny story or experience to share?
I would have to say it was this guy who took me private then asked for me to move the cam up so he could only see my ceiling and just wanted to talk, and that we did for about 30 minutes. He said thank you and even tipped after the so called show.

What are your plans for the future besides cammodelling?
I do not see myself doing this till I am 60 lol. I started this for family reasons and when that changes I will probably go back into the regular work force. I love what I was doing before this side trip.

Any tips for new camgirls?
Find a site that really fits you, there are so many to choose from. Then when you are comfortable there add another site and work them both. You will have less down time and make more money. Bonanzaa36f
Superstar
January 1, 2014 - 19:20
Nice to meet u cc! Great interview and thanks for the tip at the end!

katyannmilf
Hotshot
January 5, 2014 - 18:38