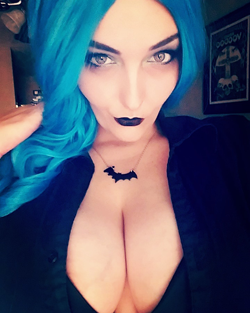 Hi Demurelibert, how old are you and where are you -from?
I'm 32 and I live in the United States in Texas! (but I'm from the west coast originally)

Is webcam modelling your only job or do you do other things beside it?
Camming is my main job. I also create videos on manyvids and I love it.

Do you tell your friends/family you are a cam model?
I'm VERY fortunate to have very supportive friends and family that all know what I do. I know how many sex workers don't have that luxury so I'm beyond grateful to have that support.

How did you come in contact with the cambusiness?
I had actually been curious for a while about camming. I had a few friends that had dabbled in it so I knew what the general idea was. I had been working my ass off for years in the service industry before accidentally falling into a finance job, and I just got tired of working for someone else's business. I wanted to make and save and manage my own money, and most importantly just be able to be myself and show my personality (which is....odd).

How would you describe yourself as a camgirl?
I would say I'm a very verbal camgirl. I really thrive on conversation, it's what turns me on. One of my viewers recently called my room the 'Naughty Classroom' because we talk about a lot about geeky stuff like Physics, Astronomy, film theory, comic books, History, mythology, Biology, Probability. I try to keep myself and my viewers engaged throughout my show, but I also try to skillfully educate about healthy sex and kink practices. Sex is as much a mental activity as it is physical, so I try to tease both.

Where can we see you and how long have you been working there?
I cam on chaturbate! demurelibertine.com
I've been there since the dawn of my cam time! (February 20th 2017)

Have you also been working on different sites?
I haven't ventured out to another camsite yet. I've been pretty comfy on chaturbate, but I started on Manyvids in August of 2017 and I've really enjoyed using them as my store/videos site.

Do you also have a personal website?
Right now I use my camgirl collective profile as my personal website. I'm working on increasing my web presence this year.

Do you have a special room prepared in your house for your shows?
Yes! Sort of. I have a 2 bedroom apartment but my room is quite large, so I use half of it as my camspace! It works out really well, but I would LOVE to have a room strictly for cam work. One day!

How was your first modelling experience?
It was actually uneventful. I just remember thinking 'I really like this' and here I am a year later.

Does being a cam model interfere with your personal (sex) life?
I've actually been single since I started camming so I can't say. However it definitely makes finding a potential person to date more difficult, at least in my experience.

What's the most appealing thing about your job?
Making my own hours, and schedule. The ability to be endlessly creative on what I do and make. Getting to engage with so many wonderful people both members and models. I can't choose!

What do you like least about your job?
I have a hard time letting myself take time off because if you don't work you don't make money. So I guess I would have to say the tenuous nature of the job. You don't get a set salary.

If you could do it all over again with all the knowledge you have now, would you still be a cam model?
Absolutely!

What's your view on the cam industry in general?
I think like with anything there are amazing aspects and not so pretty ones. There are always going to be people who just have to ruin things because its their nature. Camming is the same, made up of the same mix. I think camming is an extremely special form of work because of what it provides at its core; companionship. Sexual or otherwise it's providing the service of companionship and I love being able to do that. I love the industry for what it is at heart.

Do you have a funny story or experience to share?
Oh dear lol. I'm not the most graceful. So the first 2 weeks of my show were kind of a humiliation conga line with how often I was injuring myself or my equipment.
I was doing a private show and the guy asked me to do something that involved turning around. I was camming from my bed at this point with my laptop on top of boxes in front of the bed (very close, not very stable). So I go to turn around and my stupid long limbs of course catch the front of my laptop with my foot and it goes falling backwards and slams shut on the ground. Luckily he has that private show recorded so he can relive it over and over again. Damn it lol.

What are your plans for the future besides cammodelling?
I really want to build myself a hobbit house (don't @ me) somewhere. I would really like to start traveling and maybe start making non adult content. No solid plans, lots of dreams.

Any tips for new camgirls?
DO YOUR RESEARCH! Seriously though do your research BEFORE you sign up to a site. Ask yourself: what do you want to get out of this, how much time you can devote to it, are you ok with your naked body out on the internet for time immemorial, are you ok with having video of you doing sexual things for the same amount of time, are you prepared to put the self care and work into yourself while doing this job? Don't let anyone fool you into thinking this job isn't hard work, because it is, but it can be so VERY rewarding not just financially. Also: ALWAYS GET PAID FIRST! Don't do shows for promises. No matter what the promise is. Also (for US camgirls) if you aren't paying quarterly taxes save 30% of all of your earnings.

What's your motto?
Be excellent to each other.
Likes
AnnieSimon
,
ArikaSilk
,
Darcydevin
,
demurelibert
,
EstherH
,
JoanneUnblur
,
KatrinaRoses
,
LaviniaJolie
,
LeKumquat
,
mixeddoll69
,
MsJadisWhite
,
Paisleyluves
,
Rutger
,
SinDerella
,
tribute1
,
Tristan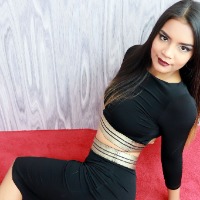 KatrinaRoses
Beginner
April 12, 2018 - 0:34
Hi!! I think your post is really useful, I loved it. I think it is really important to research about the webcam industry, especially to avoid scams

These posts are great for aspiring webcam models, and also for amateur models like me

PS: I totally love your outfit, especially your hair, it rocks!!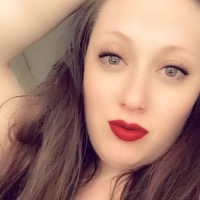 LaviniaJolie
Novice
May 15, 2018 - 23:07
Really nicely written! Thanks for sharing it so detailed! The hair color totally rocks 😁 XOXOXO LaviniaJolie