In the Spotlight will be a new returning topic on WeCamgirls. Todays guest is LaDahlia. Thank you for your time and enjoy the read!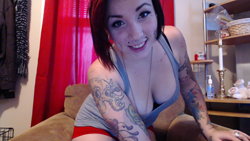 How old are you and where are you from?
I'm 19 and from Ontario, Canada.

Is webcam modelling your day job?
Yes!

How did you come in contact with the cambusiness?
I've been modelling for 5 years, nude modelling since I turned 18 - the transition to camming just made sense to me!

How would you describe yourself as a camgirl?
A down to earth showoff...haha

Where can we see you and how long have you been working there?
Currently you can find me on Streamate or Chaturbate, but I have profiles all across the board. I've been on streamate for a few months, and Chaturbate nearly a year.

have you also been working on different sites?
I work on just about every major site there is

Do you also have a personal website?
I do, but it's VERY under construction. http://www.ladahlia.com

Do you have a special room prepared in your house for your shows?
Not really, but my living room set up is very much designed with camming in mind

How was your first modelling experience?
My first REAL modelling experience was when I was 14 - I can't even remember what that was like. My first cam modelling experience was great. My client was extremely understanding and guided me through the whole process. I was really lucky that way.

What's the most appealing thing about your job?
Being able to make my own hours - oh, and being able to tell people to eff off and not get fired.

What do you like least about your job?
People who can't read/spell/comprehend basic instruction

Do you have a funny story or experience to share?
Once while I was camming from a computer chair, I leaned too far back for an angle and toppled over backwards - not only did I look like an idiot falling, but I also managed to pull down all my lighting on top of me! The person I was doing a show for quietly disconnected, but I really wish it had been on video. It was pretty hilarious.

What are your plans for the future besides cammodelling?
I want to be a stripper...SO BADLY. Other than that, I want to open my own tattoo shop while still pursuing the adult industry in as many ways as I can.

Any tips for new camgirls?
Treat this like a "real" job, and never disrespect your fellow camgirls. Being friends with your "coworkers" gets you so much further than you could ever dream - and we're all struggling along beside each other. Never hesitate to help another girl out.
Likes
ArikaSilk
,
Bonanzaa36f
,
Doodlebug
,
EstherH
,
GabriellaxGunns
,
Ginnyyy
,
Jessilane
,
lorenlane
,
mikecat666
,
Rutger
,
Tristan
,
xyloto3000
,
Zoe_Azuli

BigBellaNova
Goddess
December 17, 2013 - 16:17
I knew all this stuff already, but it's always lovely to re-visit where some of us come from, what our goals are etc. So diverse! Love you, D!


skagle1970
Mistress
December 17, 2013 - 17:46
Nice interview, and the toppling over on the chair was funny. I am surprised it doesn't happen more often.

MichelleDeTX
Hero
December 17, 2013 - 18:12
This is great! Thanks for sharing : )
Love you too Bella!!

Skagle, after that episode I switched from a chair to a couch. Harder to tip...lol!

xyloto3000
Superstar
December 18, 2013 - 0:12
Nice interview ! And this is so damn right!: "What do you like least about your job? " People who can't read/spell/comprehend basic instruction

HaydenAurora
Hero
December 18, 2013 - 1:23
Very nice! It was fun reading a bit more about you. I love your advice for new camgirls!! Spread the love...not the cattiness

I love this community.

mikecat666
Demigod
December 18, 2013 - 1:36
great interview, someone took a screenshot of me dong the same, falling off the chair, lol

Cheers to you, LaDahlia!

It is nice to hear, and learn about these lovely ladies Bonanzaa36f
Superstar
December 18, 2013 - 17:12
Tx for sharing! U seem pretty awesome and down to earth, love it! Xoxo
Great interview! Always proud of my fellow Canadian cam girls who are killing it (well, I'm not - but just gotta figure out a schedule once kids are back in school!) I like what you said about treating it like a real job - it's so important because it's so easy to just get lazy (it still takes me way too long to get ready to cam; sometimes more time than I end up being on cam for) and just watch netflix. And also of course the part about helping out your fellow cam girls I don't really know any cam girls where I live (it's still pretty underground I think at least none of my friends really know too much about it.) but I wouldn't hesitate to make friends with anyone because it gets lonely and you need to talk about this stuff with someone who gets it. Good job!