In the Spotlight will be a new returning topic on WeCamgirls. Todays guest is Dollieharlow. Thank you for your time and enjoy the read!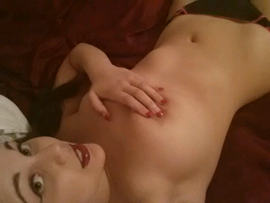 How old are you and where are you from?
I am 20 years old and I'm from sunny California!

Is webcam modelling your day job?
The modelling is more of a side hobby at the moment although I do hope to make it my day job as soon as I join more cam sites!

How did you come in contact with the cambusiness?
I first saw a camshow by Bailey Paige on Chaturbate after stumbling across her twitter by accident. From then on I always wanted to be a cam girl!

How would you describe yourself as a camgirl?
I'm very socialand playful! I love interacting with everyone in my room and talking to my fans on Twitter. I find that the better relationships I build with my customers, the more often they come back and bring new people with them.

Where can we see you and how long have you been working there?
I mostly work on MyFreeCams.com! I have been working on MFC for about a month now and it has been great!

Have you also been working on different sites?
You can also find me on Streamate and MyGirlFund I just created those two accounts, so look for me there soon!

Do you also have a personal website?
I am currently using CamGilrCollective! Find me at Dollieharlow

Do you have a special room prepared in your house for your shows?
I cam out of my own bedroom currently but I am looking to convert my spare bedroom into more inviting cam space!

How was your first modelling experience?
My first day was a little nervewracking because I didn't know what to expect but I got a few private shows that day and I am happy to report that all my privates became regulars. I was so blessed with the patient people in my room that day because I'm fairly sure I looked like an airhead

What's the most appealing thing about your job?
I love being able to change people's moods and make them happy. I'm a real people pleaser. I also love the convenience of being able to schedule my own hours and essentially make my own rules.

What do you like least about your job?
We've all had the customer that has said the occasional insulting thing about our body in the chat room. I would say that becoming a cam girl has made me grow a little thicker skin, but that doesn't mean that it doesn't sting sometimes. That and I really dislike how society shames sex workers.

Do you have a funny story or experience to share?
Would you believe me if I told you that before becoming a cam model I'd never watched any porn in my life? I find that kind of funny in itself.

What are your plans for the future besides cammodelling?
I would love to go to Special Effects Makeup Artistry school and have beautiful children. That's about all I have figured out for the most part

Any tips for new camgirls?
Just be genuine! Most customers will understand when you tell them that you are new and if you are eager to please you can pick up quite a few regulars. Just never let anyone push you into doing something you aren't comfortable with. Remember that YOU run the show and you can put your foot down if someone bothers you. Also don't be afraid to reach out to other models and ask them for help. I am always available to share with you what little I know. Most of the girls I've met have given me great advice and have become good friends of mine. Good luck! Bonanzaa36f
Superstar
December 12, 2013 - 22:09
Hi Dollie! Great interview! U n I share the same aspirations for special effects. Can u believe that I ran into Tom Savini at a Taco Bell in Pittsburgh once?! Totally left me speechless! Good luck to u and tx for sharing!

Dollieharlow
Graduate
December 13, 2013 - 7:48
That's so awesome! I would have fainted! Thank you so much for reading xx