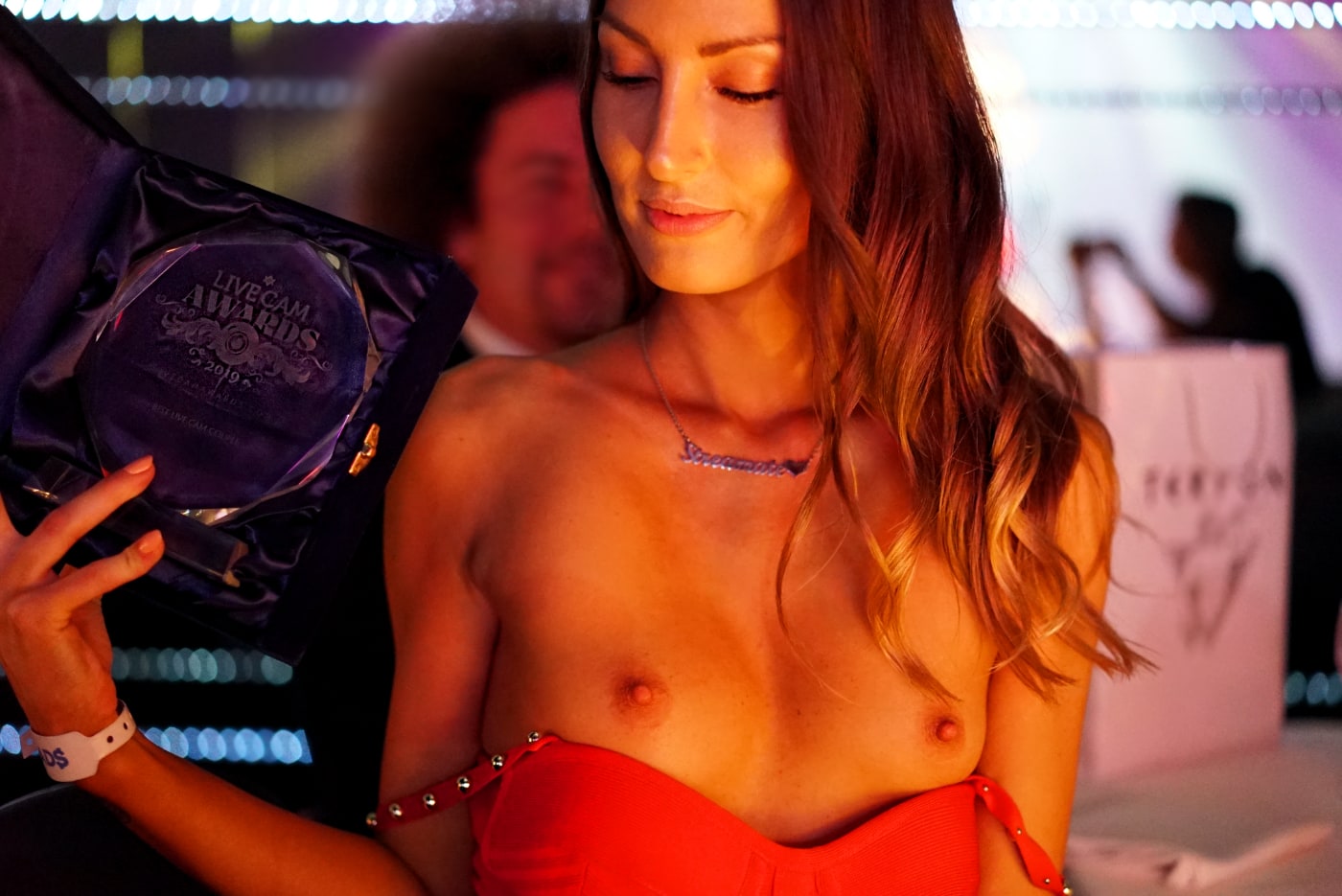 Hi Emma, let's start with some basics. How old are you and where are you from?
I just turned 27 and I was born in Europe but grew up in Arizona, USA (:

You also run an adult modeling agency. Can you tell us more about this business?
Yes when I first started camming I would often hire other girls to work with us so we started a modeling agency as a way for girls to signup to be on my show and learn more about webcamming.

Do you tell your friends and family you are a cam model?
Yeah I'm very open with what I do. Its a huge part of my life so I never considered hiding that part of myself.

You often perform with your husband Eddie. In what way is performing solo different than performing as a couple? What do you prefer?
Performing solo can be a lot more demanding creatively especially when I'm doing one on one shows with people who have a unique fetish. I have to think of what to say and try my best to create a world they are completely engrossed in. Its basically impromptu acting. The sex stuff is easy in comparison so when I perform with Eddie it can be a refreshing change of pace. I think I prefer solo because I can practice my craft - entertaining - and I get to conserve my sexual energy for our private sex life.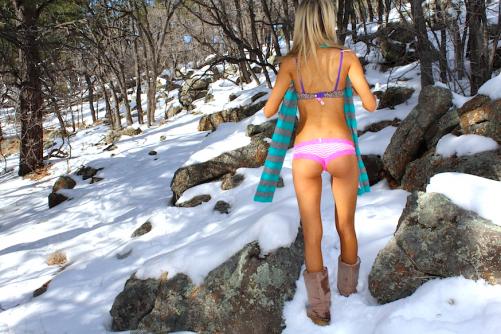 Does Eddie or you get jealous sometimes?
I think its impossible to completely avoid jealousy in this line of work especially when we're inviting other women to perform with us. But we have been married for 8 years so by now we both know each others boundaries and jealousy is pretty much a thing of the past.

How did you come in contact with the cambusiness?
The first time we learned about camming was through ads on craigslist in the job offers section. We later saw Lisa Ling interview a cam couple on TV and after that decided to try it.

How would you describe yourself as a camgirl?
I'd say I'm fun, quirky, talkative, dominant and sexy. I enjoy posing and looking hot, not so much for the audience but for myself! When I'm engaging with fans I really like the strange fetishes where I get to be creative and roleplay. It can also be a lot of fun dominating and humiliating men. When I'm horny I like to do b/g with Eddie. I pretty much do it all (except dildos, tip vibes, anal and being submissive, I'm firmly opposed to those).

Where can we see you and how long have you been working there?
I have been camming on Streamate for over 7 years and my profile is: https://emmacams.com/cam/emmalovett




You have like 3 or 4 personal websites. Can you tell us more about those?
Yeah so I have my main membership website where all of my content is available: lovettemma.com. I also realized when I started camming that people really liked my feet so we made a foot fetish site for those fans: emmasfeet.com. I have a site for cam girls where they can sign up to be in our virtual studio or if they're in Budapest we also have a physical cam studio: eladultmodels.com
Finally we have our Streamate white label emmacams.com

We also use ManyVids and Pornhub to monetize our content. Eddie is in charge of all of that he does the websites and business stuff while I handle the model side of things.

You're very active on social media. On instagram for example you have over 50K followers. Can you tell us more about your strategies for this?
Honestly I am not as active as I should be. I mostly use Instagram for fun so I don't really know of any good strategies. I guess just find what youre good at and for me its butt pics lol. I'm probably doing everything wrong on instagram but I don't take it too seriously. Its easy to get to wrapped up with social media and for good reason it has huge potential if you get really big. But at this point I mostly focus on my bread and butter - camming.

Do you have a special room prepared in your house for your shows?
I usually use my bedroom when I cam. Its very minimalist and the atmosphere makes me feel at home and comfortable. Sometimes I venture out into the living room but it doesnt have the intimate/cozy factor of the bedroom.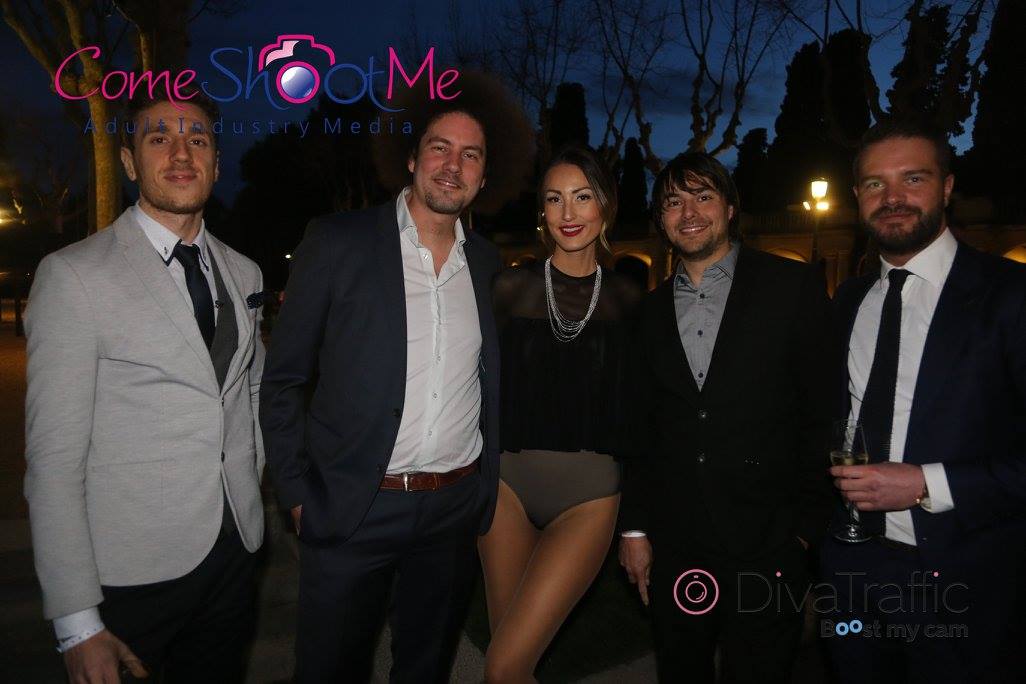 How was your first modelling experience?
Well I've wanted to be a model ever since I was young. I was nine years old at my first photo shoot for my portfolio. I remember being nervous but eventually got the hang of it and got my first professional pictures done. Later I runway/print modeled bikinis in my late teens/early twenties. I became a webcam model at the age of 19. It came naturally to me(:

Does being a cam model interfere with your personal (sex) life?
Yes when we are camming and doing multiple b/g shows we usually will not have sex in private for a few days because we're just sick of sex lol. It used to be a real issue when we cammed every week but now we only do it one week out of the month so the other 3 weeks we can have a normal sex life.

What's the most appealing thing about your job?
The most appealing thing about camming is the sense of freedom. Being able to do what you want, when you want is a great feeling. We have a huge amount of free time while also enjoying a very comfortable lifestyle. Not much more you can ask for out of a job.

What do you like least about your job?
What I like the least is peoples perceptions of sex workers. When people recognize me or find out what I do sometimes they can get really creepy. They assume that I must have a high sex drive or that I'm promiscuous if I'm a sex worker. Nothing could be further from the truth. Its also annoying on cam when people just assume I will do certain things. In reality theres a short list of things I'm comfortable doing.

If you could do it all over again with all the knowledge you have now, would you still be a cam model?
Yes I would still be a cam model knowing everything I know now. I consider myself very lucky to have found this path in life(:

What's your view on the cam industry in general?
I think the cam industry has come a long way since I started and is continuing to mature and grow. Things are a lot more refined nowadays and I feel its more accessible than ever. I'm excited for the future of the industry and see myself being involved for a long time to come.

Do you have a funny story or experience to share?
Yeah one time I had a big group of police officers (at least 8 or 9) knock on my door in the middle of a live threesome show. A few of them wore bulletproof vests and had big guns. Me and the other girl answered the door in our underwear with the laptop on the floor so our audience could witness everything. Eddie was hiding in the closet because he thought they were looking for him. The cops showed us a picture of a black man they claimed committed a crime in the area and they were looking for him. I told them I hadnt seen that person and tried to close the door. The officer put his foot in the door and told me it smelled like marijuana. I told them I was a medical marijuana patient and when I showed them my card they finally left. All of this happened live on cam! And later we found out that they were in fact looking for Eddie. It was the federal immigration police because he failed to update his immigration status.

What are your plans for the future besides cam modelling?
I want to teach other girls how to make money in this business. Theres so many things I've learned through in my career that I want to pass on to help others. I also want to rescue dogs and farm animals with my own animal sanctuary. Besides animals I also have a huge passion for real estate so I want to do something with that.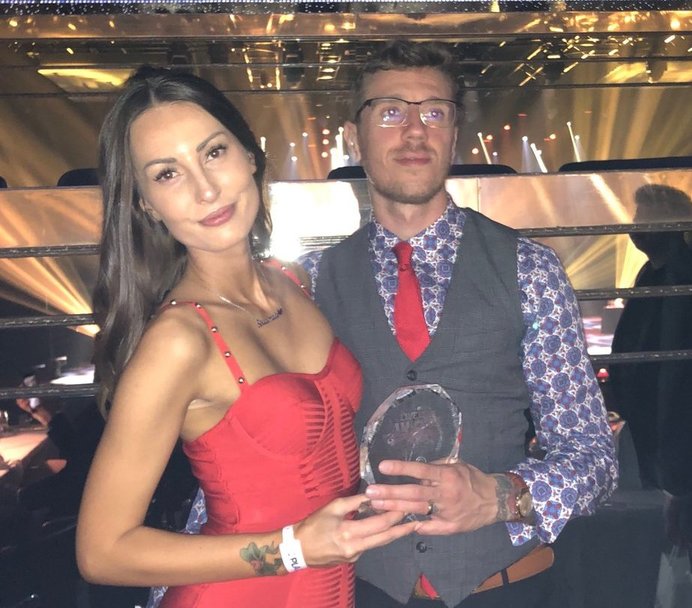 Any tips for new camgirls?
Practice your craft! Love what you do and try to actively improve what you do and learn about it. Talk to other cam girls. You can't get to a high level in any field by yourself. You need other people. And always give back! The best way to learn something is by teaching it. Invest in yourself and your business. I never think twice about making a purchase whether its beauty supplies, equipment or software I always try to get the best and never hesitate because it will always come back to you. This job is not easy. Be prepared for setbacks, hard times and just plain suffering. There were many times when I felt miserable and never wanted to see a webcam or a computer screen again. But those hard times are opportunities because if you can make it through that you will be rewarded with a huge sense of accomplishment (and probably a huge paycheck!).
Likes
alexlecomte
,
AniKandy
,
annamystic
,
ArikaSilk
,
CaDushi
,
CallyCalient
,
Camkitttie
,
EmmaLovett
,
hubbylilslut
,
LeilaMae
,
Liz_Charming
,
MariaDomMignon
,
mikecat666
,
Paisleyluves
,
PrettySuzFun
,
Rutger
,
RyderGoodee
,
Schwarzwald
,
SexyRedIvy
,
TheSnowWhite
,
tiffanybella
,
Tristan
,
victoriaveri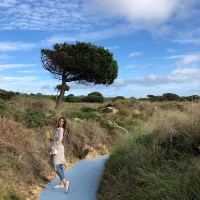 EmmaLovett
Rookie
April 18, 2019 - 21:35
Thank you so much for the interview Rutger(: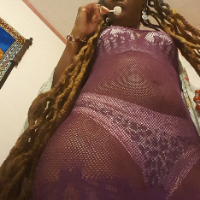 BeautifulLaylai
Novice
April 24, 2019 - 6:15
I thought your interview was great! And inspiring as well. Thank you