Hi Dave, thank you for doing an interview with us. You run a very interesting company with a service that is currently high in demand. Can you tell us a bit more about yourself?
Hey Tristan! Thank you for the interview. I'm from Italy and I am the founder of StormDMCA.com
How would you explain StormDMCA to those who don't know it?
StormDMCA is a copyright & privacy protection service that helps cam models feel safe and protected while working in the adult industry.
We take care of everything related to digital piracy and leaks. Our task is to spot and get down every pirated link/image/video as soon as it gets indexed on Google. This way, we not only secure the models' image, but we also boost their earnings.
Our service is intended for whoever is trying to make camming their primary income, and for busy models who need to outsource part of their job. We look after your privacy so you can focus on creating great content and growing your audience.
How did you get into the adult industry? / How long have you been a part of the industry?
My story is a little weird because I actually got into the adult industry as a performer, together with my girlfriend. It was 2019, just before the pandemic.
We started streaming on Chaturbate, but after a month we casually searched for our username on Google…
BOOM.
Hundreds of thumbnails and recordings of our shows came out as a result. We had no idea that something like this could ever happen. It was scary.
From there, we became aware of piracy and all the ways to counter it. After lots of information-gathering and hard work, we successfully removed all of our content from the web. A couple of weeks later we decided to make this service available to other performers, creating StormDMCA.
How would you describe yourself, and what is your area of expertise?
I am a young guy who has always been interested in entrepreneurship. Since high school I started developing my own projects in the IT field.
Then I got into marketing and became passionate about several Italian and American authors. Thanks to them, I gathered a lot of information about the managerial side of business. I learned how to guide a company and how to make it grow in the most healthy way. Now I am really happy with where my life is going and I am determined to continue on this path.
What is your ultimate goal for the company?
I have an extremely ambitious long-term plan for this company. I cannot disclose more info publicly, but I can tell you it will be much more than a protection service.
We want to empower adult performers in any way possible.
There will be a whole ecosystem around StormDMCA aimed at helping models and creators work professionally and efficiently. I am so excited and I hope we can raise the funds to reach this end goal as soon as possible!
What can we expect from your company in the near future? Are you going to introduce new features?
We are just about to release our official dashboard. Not only will our customers be able to check the list of leaks and removals in real time, but they will also have the chance to analyze the overall statistics and long-term earning improvements.
Next we are planning to create a trademark registration system. And finally, we are negotiating the terms of a collaboration with a law firm to further increase the authority of our reports!
What is your off-the-job life like? And do you tell everybody that you work in this industry?
I don't really separate my life from work. Let me explain. Everything I do has the purpose of making me healthier, less stressed, more cultured, and consequently more stimulated in my job.
I consider all the things I do as work. From training at the gym, to studying new topics and implementing them into my business. I am extremely happy about this lifestyle, because it fuels my ambitions and gives me a clear goal every single day.
I have never had a problem talking about my job with people close to me. I am very proud of the fact that I can help other models fighting the plague of piracy.
After some initial doubts, also my parents and friends realized that this is an industry like any other, and there shouldn't be any bias associated with it.
But please if my grandma asks you, always tell her that I am "doing cool things on the computer." 😙
What is your view on the future of cam sites?
I think we are at a very delicate stage. The rapid growth of this industry has now reached a point of downtrend. The times where it was extremely easy for everyone to find new customers (regulars, whales) and make tons of money are gone.
I believe that to be successful in the cam modeling business it is now necessary to have a precise marketing strategy and the best supporting tools. 80% of the money in the market is spread between the top performers who work hard and professionally. It is important to be one of them.
Although I seemed drastic with my answer, I believe cam sites will keep up with technology and reach new frontiers, perhaps thanks to VR or other features. This industry has endless possibilities for growth. We just need to know how to adapt to changes. Be water my friend.
Do you have a funny story or experience to share and maybe some tips for new cammodels / content creators?
The best tip I could ever give to a new adult creator is to build a strong online presence as soon as possible. The platforms you're working on could encounter problems or could limit your account from one day to another. Everything you built for months would disappear in the blink of an eye. You should create and promote a personal website. That way your fans will always know where to find you. Even if you get banned on your main streaming platform.
Oh, I also want to give you a little gem. Think about collecting emails to build a sort of erotic newsletter for your fans. This can become a real gold mine if used in the correct way. 😽
Where can we read more about you or get in contact with you?
Always feel free to DM me here on Wecamgirls, or message me on Telegram @StormDMCA. For business inquiries email us at [email protected]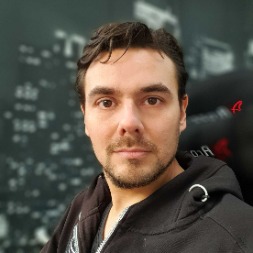 Author
Comments
No comments yet
Sign up to leave a comment!
Related Posts
Hi Frankie, thank you for doing an interview with us. I've known Skyprivate for a long time and still remember the first presentation I attended almost a decade ago at a tradeshow. The company has grown quite a bit since. But later more about Skyprivate. Can you tell me a bit about yourself first? How old are you and where are you from? And how did you come in contact with the industry? I'm [...]
Hi MissBerry, thank you for doing this interview with us. You are relatively new to the cam world and we'd love to hear your experiences. Let start with some basics. How old are you and where are you from? I'm 24 years old, I was born in MG, Brazil and moved to Portugal around the age of 2. Do you tell your friends/family you are a cam model? Yes and no, my close friends and my Mom k [...]
Hi Femme Fatale, great that you want to do an interview with us. You have a lot of experience in adult. First as a kink model and now you work for a company that is active in the industry. Can you tell us a bit more about yourself? Where are you from and for which site do you work? I am Canadian, and based in Canada. I work for Arousr.com and Arousr is also a Canadian founded and based company ou [...]
Want to write an article or get interviewed?