In the Spotlight is a returning topic on WeCamgirls. Today's guest is Szandora666. Thank you for your time and enjoy the read!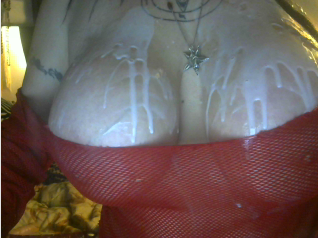 How old are you and where are you from?
i am 43, gunna be 44 in just a few days. im a cali girl

Is webcam modelling your day job?
yes and no.. im nocturnal, i hate mornings and take half the day to wake up, so, it's my "night job"

How did you come in contact with the cambusiness?
I got into webcaming in the spring of 2012.. so, i guess its been 3 years now. I was at a time in my life when things gotten really tough.. my "other" left and i had my boys to support. things were looking grim. i had recently graduated college with a couple of associates degrees, which turned out to be quite useless. i took nursing, did really well, graduated, passed the NCLEX, but had trouble finding work. i was doing care taking for a while, but the "live in" situation with clients did not really fit. i was always a facebook junkie!!

and loved to take pictures.. (of myself, yes, im a narcissist, lol) and liked to edit them.. i would post them to my facebook and noticed i was getting alot of attention from them.. heh heh.. i thought, there HAD to be some way to make money with this!! i checked out ads, put out ads, got alot of rif raf response and scams.. but one responded with, work for us!! it was a recruiter from Streamate/Vivid.. i was sceptical at first, i had been scammed before.. but it turned out to be legit.. and the money was GOOD!!

How would you describe yourself as a camgirl?
i am dirty filthy.. i have no limits.. im the kinda cam girl a guy can go to for their most taboo fantasies.. im messy, trashy, and basically, i dont give two fucks.. lol so, i do it all, mostly..

Where can we see you and how long have you been working there?
STREAMATE!! ive been doin it for 3 years and theyve always been really good to me! you may also find me doing skype shows.. or making custom videos.. i can be found on facebook most of the time.. lol

Have you also been working on different sites?
ive actually tried only one.. Chaturbate..
i got scammed by a couple people and decided, i dont like chaturbate.. that was the first and only night.. STREAMATE RULES, i am loyal

Do you also have a personal website?
a personal website.. as in one that i MADE myself, no.. but i do have social sites where i will do some promoting, such as youkandy, twatter, facebook.. and im just getting started with extra lunch money and my porn profile.. just so many sites.. its getting hard to keep track

Do you have a special room prepared in your house for your shows?
its special because its my very own bedroom, but i dont have an extra room that i can designate just for camming.. now, that would be kool!!!!



How was your first modelling experience?
as in cam modeling? well, the very first was not a good experience. someone had put out an ad. and had a "website" all set up to look like a real cam site.. and, had no traffic.. the shows i did do, i wasnt paid for.. it wasnt a good first impression for the industry.. so, by the time i was recruited for streamate, i was sceptical.. paranoid, almost

What's the most appealing thing about your job?
there are several appealing things about camming.. i will list a few and then give you the most appealing at the end...
-its fun
-you cant beat the commute!!!


-you cant beat the hours!!
-if i feel like taking the evening off, I DO


here is the most appealing...
THE PAY!!!
i tried to get a "day job" as described above.. worked hard and busted my ass for 5 or more hours, drove all the way out to different areas.. then when i saw my paycheck.. it was like... WHAT THE HELL IS THIS??? LOL
pennies
im gunna flat out say, THE PAY!

What do you like least about your job?
this is an easy one.. hehe
i think alot of models will agree..
creeps, jerks, assholes..
the ones that tell you how ugly or fat you are.. the ones that ask what dirty things you do, and ask you to stick large objects or a fist up your WAHOO to stretch it out and gape after.. uuuhhhh, no.. the A holes dont last long in my room.. before, first starting out, i was "timid" now, i dont give two fucks and tell them to kick rocks. fisting is about the only thing i wont do.. no offense to anyone who can.. but, my holes just dont stretch that way.

Do you have a funny story or experience to share?
kinda funny, kinda stupid and my fault.. I thought it was funny after the fact, i can imagine how it looked to my client whom i was camming with.. really, it was a bit scary..
i had some incense burning, near my window, yes, there were curtains, and i had a mirror there.. while i was camming.. really getting into my show.. i could look into the computer and see that there was "light" glaring into the mirror.. sometimes my lamp will do this.. but this time it looked kooool, like fire.. and i thought.. wow.. that almost looks like fire.. how kool and appropriate for my cam show!! but it looked a little TOO MUCH like fire, and i turned around to find one of my curtains were burning.. and i grabbed my little boy shorts to put it out.. luckily, it wasnt any worse.. and the cam show continued as it it never happened.. lol i can laugh about that now.. and NEVER burn incense near my curtains!! haha??

What are your plans for the future besides cammodelling?
well, i am not getting any younger, tho the MILF thing is kinda big.. ive seen the 'granny's' on some of the site (KUDOS to them!!), but i dont want to be doing that when im a granny (almost there

) i plan to go to the Oaksterdam College in Oakland, learn to be a pot farmer, NO JOKE!!

and grow and sell.. LEAGALLY, of course.. and live in my gypsy trailer



Any tips for new camgirls?
just that there are alot of dirty scammers out there.. you gotta be a bitch sometimes.. being ms. nice girl doesnt do you good in this line of work. you gotta have a tough skin.. and BITCH UP!! lol!! i think the dudes love it anyways.. they NEED to be controlled

and dont take shit some people say personally.. there are people with nothing better to do than ruin your day because they hate their life.. i find its a rare occurance.. but it does happen. they will tell you youre ugly, fat, etc.. but when you got a zillion other dudes telling you how gorgeous you are, KNOW theyre full of shit!! haha!!
another thing.. be creative.. it should never be about what you cannot do, but what you WILL do..
they'll love you for it..
lastly,
NOTHING is sexier than CONFIDENCE

Likes
0phelia
,
ArikaSilk
,
EstherH
,
Ginnyyy
,
LILASTONE
,
MrSexxxyBbc
,
PrettySuzFun
,
Rutger
,
SexyFit58
,
sexygirl24
,
ShanaStorm
,
wildbabyx

Szandora666
Expert
June 3, 2015 - 4:55


ShanaStorm
Jedi
June 3, 2015 - 21:00
Good piece.....I can so relate to most of ur experiences. I never had the guts to cam full time......good for you!

JoyKitten
Crown Prince
June 7, 2015 - 2:50
Wonderful interview. Thanks for sharing your experience & insights. You've got me wondering.... When you were approached by Streamate, are you considered a 'studio' model making less than 35%? I've heard different stories. Thanks!
Szandora666, I've been a fan of yours for a while. In fact, sometimes I'll get a request for something I can't do and I've sent them your way. (But I've no idea if you were even on at the time)

Szandora666
Expert
June 11, 2015 - 7:21
hi.. thanks, everyone!! glad you enjoyed.. i never get the requests btw.. lol.. but its okay.. i just try and keep it real.. im very CANDID..lol.. do i swear too much? hehe

Just read the article chick, and I dig it totes!!

I wanna know if you get shit about your tattoo, name, jewelry, etc. Mine is not as well recognized but of Hungarian-oriented neo-draconian O.T.O. meets Lovecraft organization (dang, I could so get mowed over for that description -

) But aside from mutual candor in common, the occult slips in now and then and I thought of doing shows around it, give the idiots a version of what they think I do anyway.... Then the LSD wears off - LOL!!

Anywho - if you can find a question in my statement, feel free to let me know Rock ON!!

Renoir

(pronounced ren-wee in France, ren-wah in America, and ren-warrr in Australia)